From the SFLA Blog
In Georgia, "Life and Death Stakes" Makes Voting Pro-Life First Critical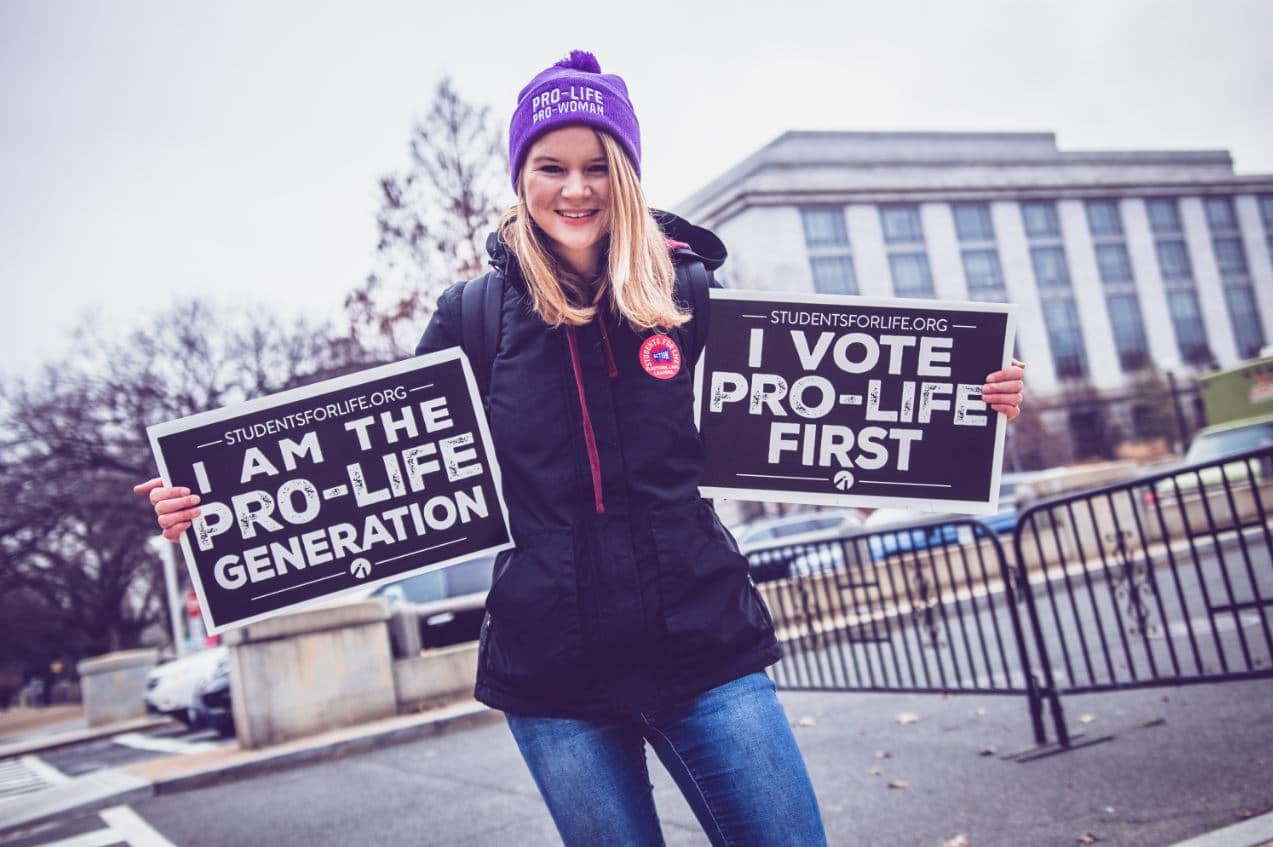 Kristi Hamrick - 15 Dec 2020
As Biden heads to Georgia, SFLAction Says "Life and Death Stakes" Makes Voting Pro-Life First the Responsibility of Every Voter 
SFLAction's Toni 
 

McFadden describes the importance of that race in an

 

op-ed titled

 

"As a Black Woman with a Voice, I Must Fight to Save My Race"

"My choice in any election and the choice now in Georgia is to Vote Pro-Life First to address the acknowledged racism of abortion industry founders like Margaret Sanger and infamous eugenics supporter Marie Stopes among others, and to end their abortion legacy seen in the dramatic loss of black lives to abortion,"  writes McFadden. 

 

SFLAction notes that more than 200 Students and Staff headed to the state in January. 

 

ATLANTA, GA, & WASHINGTON D.C. (12-15-2020) – As Joe Biden headed to Georgia today, Students for Life Action President Kristan Hawkins announced that more than 200 staff and students would be headed to Georgia for door knocking and voter engagement because the "life and death stakes in this race makes voting pro-life first  the responsibility of every Georgia voter." The issue of abortion is front and center in the race with GOP candidates Kelly Loeffler and David Perdue writing today in an op-ed about the abortion positions about both of their Democratic rivals. Also this week, more than 25 Black pastors signed a letter to Democratic candidate Raphael Warnock, calling on him to stop using the Bible to advance his abortion support.

SFLA/SFLAction Minority Outreach and Healthy Relationships Director Toni McFadden  discussed the issue of race in this election cycle in an op-ed at Townhall, where she observed. 

"The same harm of slavery continues today as another class of people are robbed of their human right to life—the preborn—and it is for them that I fight. And once again, people of my race suffer more greatly because of what Roe v. Wade currently allows. Consider that 'the abortion rate for black women is almost five times that for white women,' according to the Guttmacher Institute … 

Do you know what the No. 1 killer of Blacks is? It's not black on black crime, police brutality, guns, drugs, or heart disease cancer. It's abortion, which has killed more of us than AIDS, accidents, violent crimes, cancer, and heart disease combined."  

For more on SFLAction efforts in Georgia, visit https://studentsforlifeaction.org

For interviews, contact Kristi Hamrick at [email protected].

–30–

Students for Life Action (SFLAction) is the 501c4 sister organization of Students for Life of America (SFLA), the nation's largest, pro-life, student organization with more than 1,240 groups on middle, high school, and university campuses in all 50 states. Students for Life has more conversations with those most targeted by the abortion industry every day, week, and year than any other pro-life outreach in the world and mobilizes the Pro-Life Generation to confront abortion at the local, state and national levels daily. Every week, Students for Life entities reach more than 2 million people across social media platforms to have nearly 200,000 digital conversations with the most engaged pro-life online audience in the world. 

Students for Life of America (SFLA) is the nation's largest, pro-life, youth organization. Headquartered in Fredericksburg, VA, SFLA serves more than 1,240 groups on college and university, middle and high school, medical and law school campuses in all 50 states. Student pro-life organizations work to confront policies on their campuses to support pregnant and parenting students, to end Planned Parenthood's relationships with schools and communities, and to change minds of their peers about abortion. SFLA has more conversations with those most targeted by the abortion industry every day, week, and year than any other pro-life entity.