From the SFLA Blog
Things You Need to Know about Legal Abortion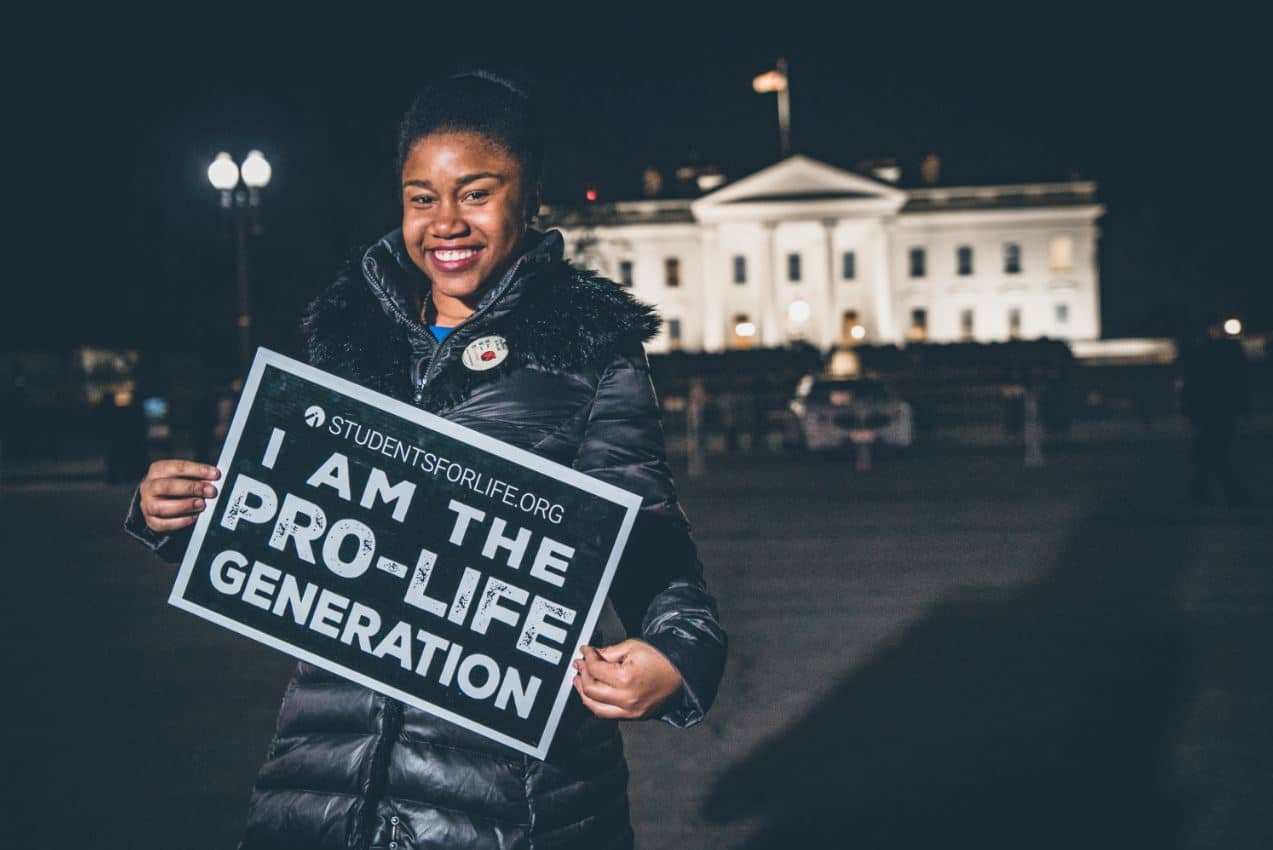 Jessica Nardi - 29 Oct 2020
Why do Roe and Doe Matter? 
In 1973 Roe v. Wade along with its companion case Doe v. Bolton were decided on the same day, allowing abortion on demand in the United States. Through a constitutional "right to privacy" Roe enabled unrestricted abortions with no exceptions or regulations, while Doe legalized abortion on demand for the full nine months of pregnancy by expanding the definition of a woman's health to include, "all factors–physical, emotional, psychological, familial, and the woman's age–relevant to the well-being of the patient."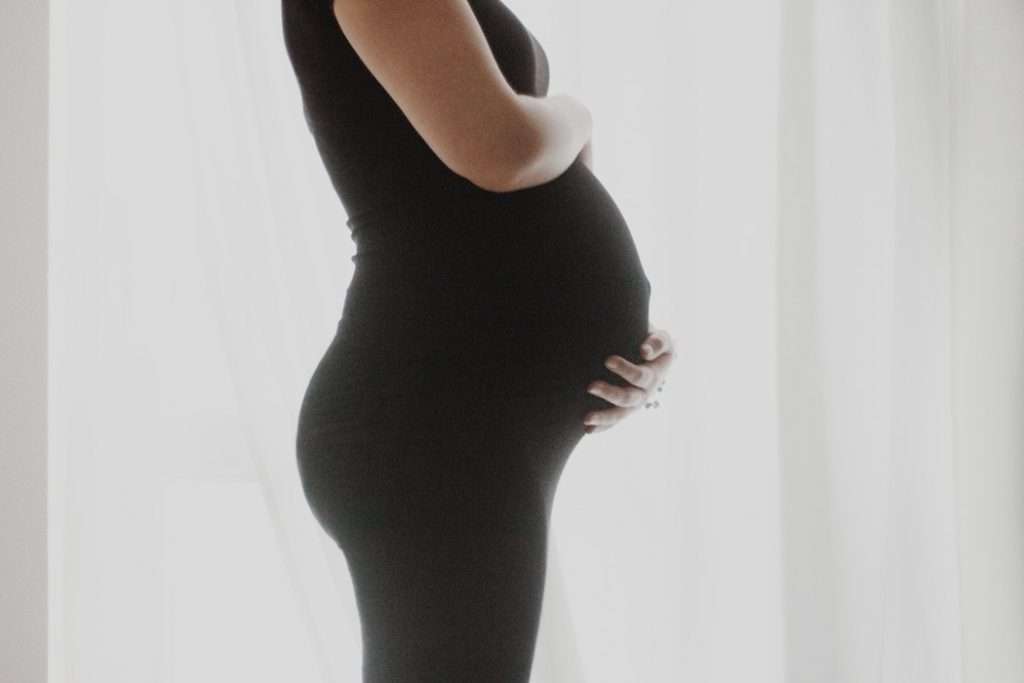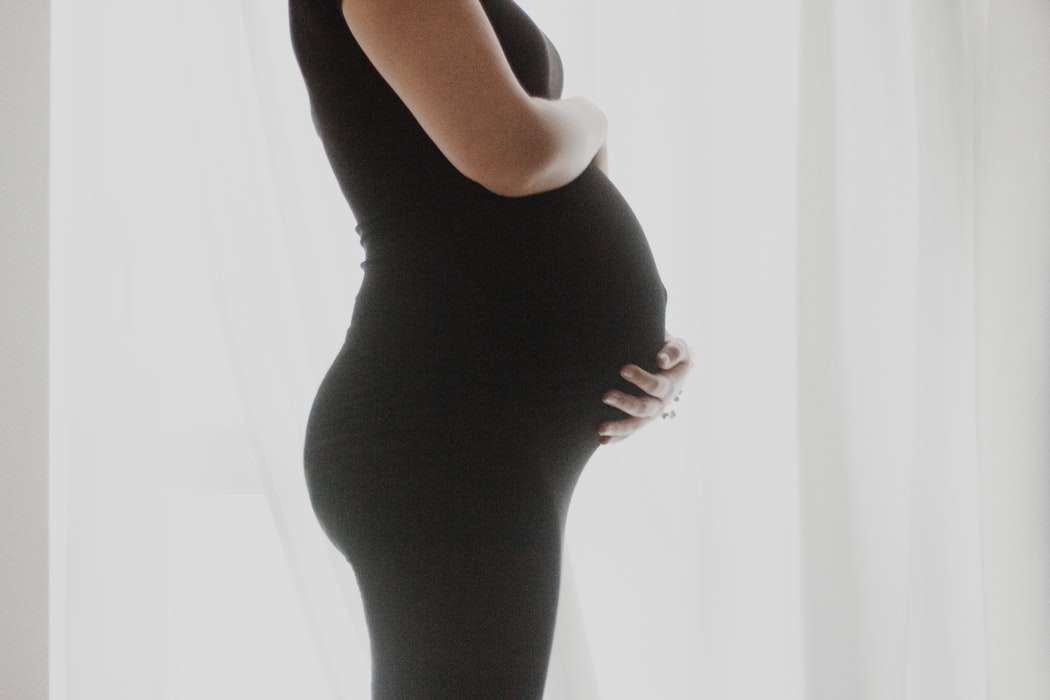 What this led to was the opposite of care and empowerment for women. The lie the abortion industry has been selling for years — fueled by Roe and Doe — is that women are not strong or capable enough to be mothers and to have successful careers, an education, or a fulfilling life.  Parenting is not easy, but rather than providing women and families with better resources and care, this legislation pushed the mindset that one can end the life of an innocent human baby for any reason, even mere convenience.
However, our lives are no more important than theirs. Our right to life is no more sacred and inviolable than theirs, whether the government respects this or not.  Abortion is always the intentional ending of human life. The solution is to create a world in which abortion is not only illegal but unthinkable.
What Will Happen When Roe is Reversed? 
When Roe v. Wade is reversed, abortion will not be outlawed overnight but the question of whether abortions can legally be committed will no longer be a national issue. It will go back to the states to decide independently. According to the Guttmacher Institute, if that happens, 10 states have laws in place to protect preborn life when Roe falls. This includes Idaho, Utah, Tennessee, South Dakota, North Dakota, Missouri, Mississippi, Louisiana, Kentucky, and Arkansas. The New York Times estimates 12 more states will likely pass laws to limit or ban abortion.
That means there's still much more work left to be done for the pro-life movement:
Abortion would remain legal in at least 28 states

Legal abortions would potentially go down by about 14% (about 100,000 fewer abortions per year)
It's difficult to predict just how many lives would be saved initially because it's likely the abortion industry will try to circumvent these bans. New abortion facilities would likely open on state borders, and we'd undoubtedly see the rise in mail orders for abortion-inducing drugs. Nevertheless, this move will cause a ripple effect among states. The law has a pedagogical effect on people, often leading us to think if something is legal, it's moral. How soon we forget the immoral laws of history. 
When Roe is no longer the law of the land, and abortionists no longer have the national high-ground, it opens the door for Americans to really start thinking about what's best for their state, and to ask why is abortion being accepted in some but not in others.  This is a gateway to more open dialogue and allows the pro-life movement to really concentrate our efforts on serving our individual communities so men and women in crisis know there is always help. 
Americans Don't Want Roe
Contrary to what the media often portrays, most Americans support some level of abortion restrictions or for Roe to be reversed. A 2020 Marist poll reported that 62% of Americans want abortion restricted by individual states or made illegal. This includes four in 10 of those who identify as Democrats (39%) or as "pro-choice" (40%). Students for Life polling has found that millennials tend to support Roe v. Wade – but not after they find out how extreme it is.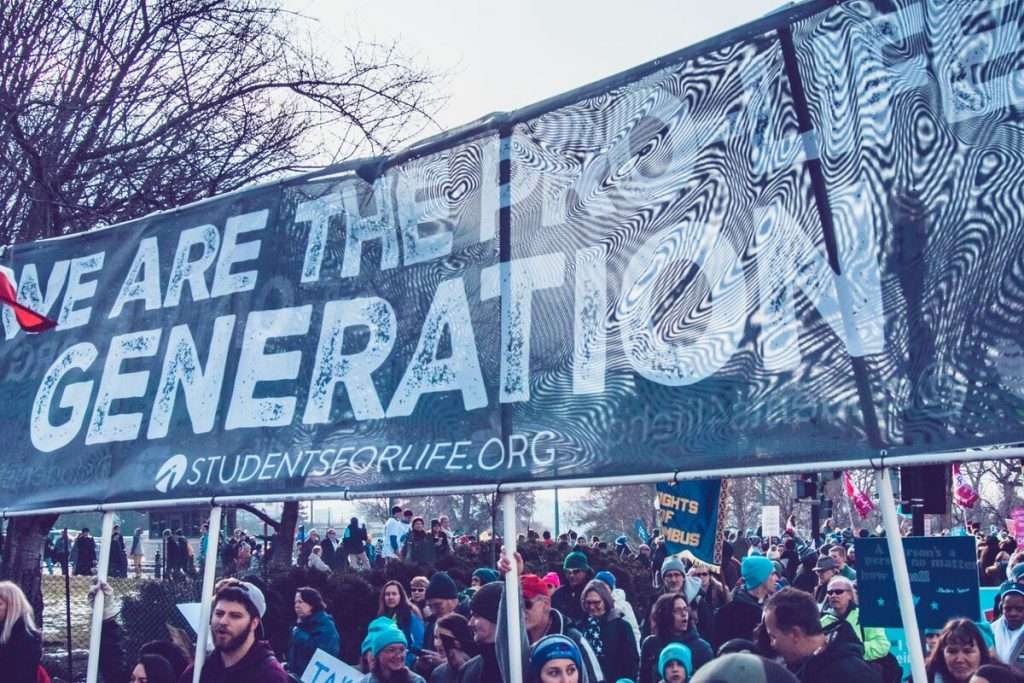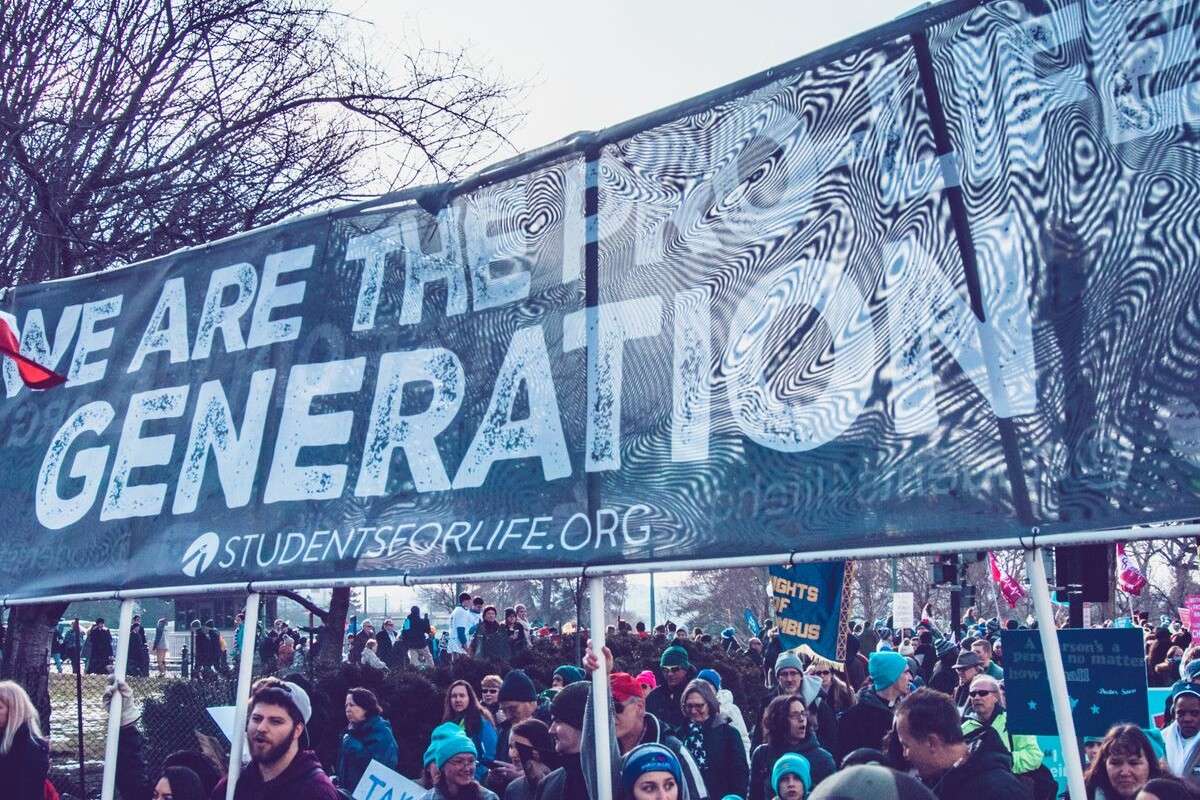 What will a Post-Roe World Look Like? 
Roe sells women short, telling them that they are locked in a civil war between career and family, and that only one can win. Abortion is sold with the lie that it fixes all problems, instead of the fact that it just create new ones. It doesn't empower but seeks to incapacitate her all for the abortion industry's profit. It gives her no real options or care except paying someone to kill a child. 
Life after Roe will not take away a woman's healthcare, but give her more opportunity to access it. There may not be abortion facilities committing abortions, but there will be healthcare and resources for women in unplanned pregnancies.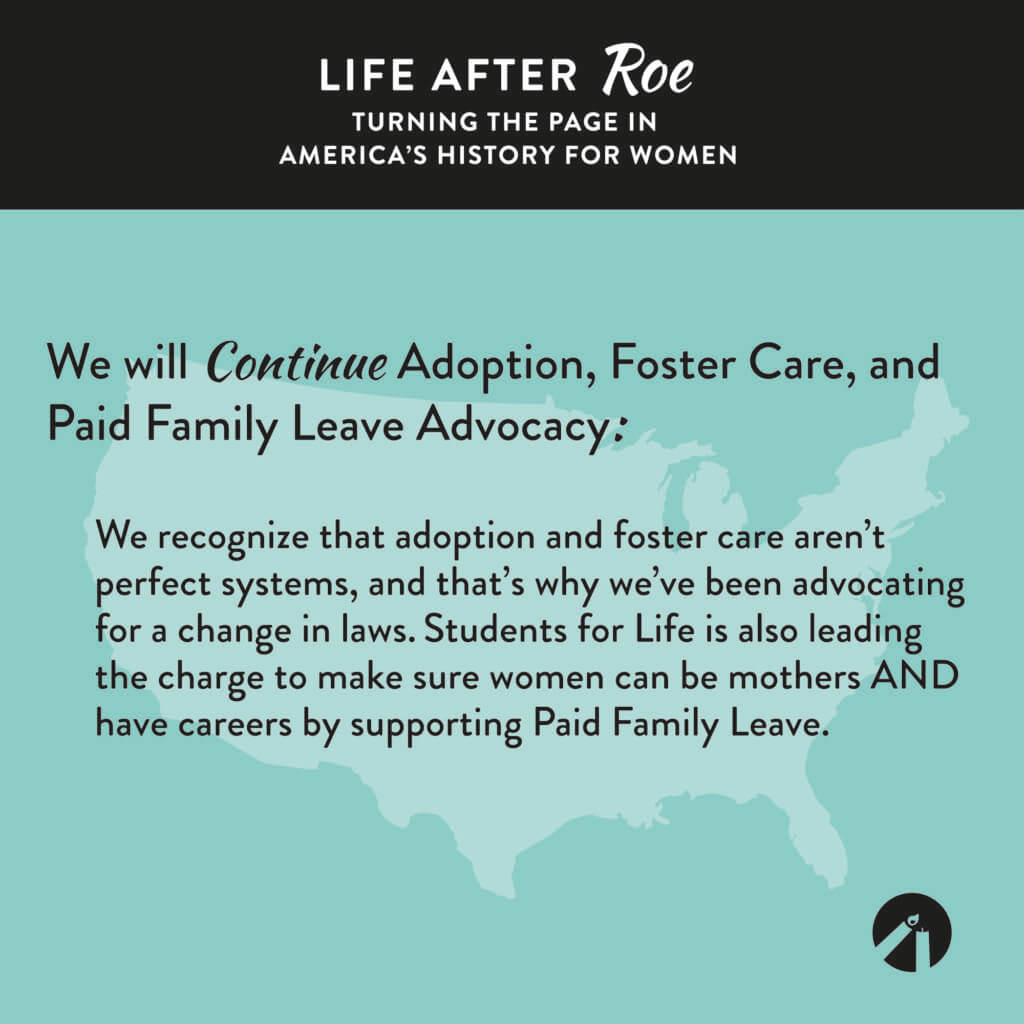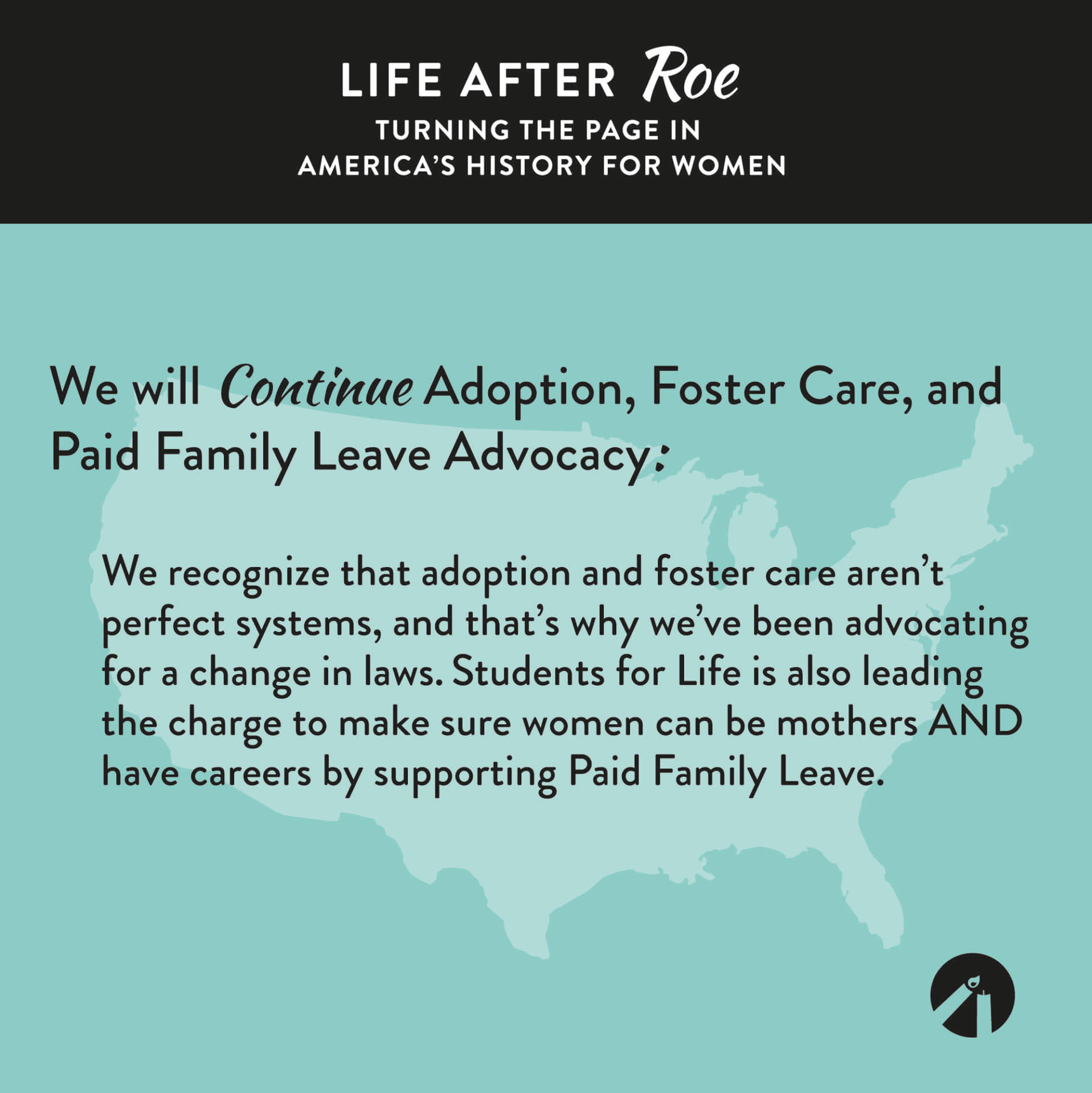 Practical Ways to Help Women in a Post-Roe World 
SFLA's president Kristan Hawkins has outlined some practical ways to give women and families the care they need in a post-Roe world. Much of this is through innovating locally as individual communities will have a better understanding of what their particular area and residents need.   
Promoting Pregnancy Care Resources

– the pro-life movement already operates over 2,500 pregnancy resource centers and maternity homes across the nation, providing services from pre-natal care to diapers to housing. It's also important to have these local entities because they understand how to serve the needs of their specific community.

Talk about Foster Care Reform

– innovating it locally to update the software and methods for connecting/reunifying children with families better and faster.

Promoting Families

–

lower

poverty rates by encouraging young people to finish high school, get a job, and get married and have children after age 21.

Improve Education Options – No woman should have to choose between their child and completing their college education because their school doesn't give them the options and resources they need. Initiatives like Students for Life's Pregnant on Campus ensure that college mothers have the care and legal protections they need.
Helping Women Succeed in the Workplace

– Students for Life Action had the first-ever lobby day promoting paid family leave in Washington D.C. Workers and employers should be educated on the Pregnancy Non-Discrimination Act
The Pro-Life Generation believes that life in a Post-Roe world is not only possible, it is preferable. The Pro-Life Generation is mobilized and ready to help women know that they and their children deserve so much better than abortion.