From the SFLA Blog
Students Can Still Schedule a Campus "Sock the Vote" Tour Stop!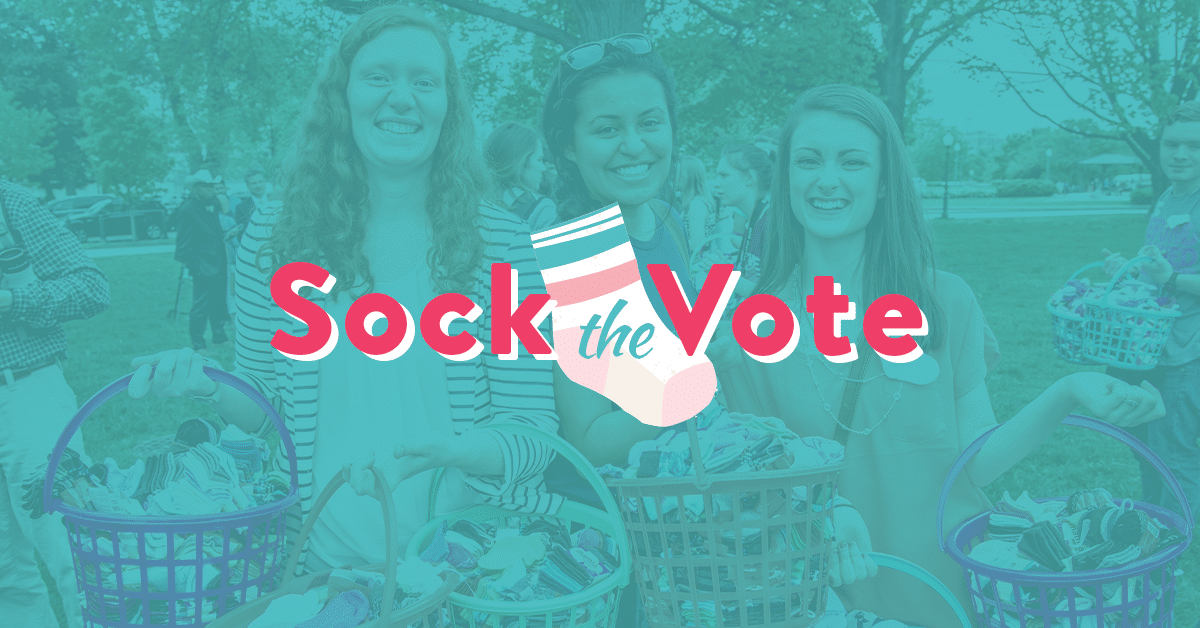 Reagan Barklage - 15 Oct 2020
Students for Life will not let the restrictions of COVID stop us from moving the pro-life mission forward this election season. During this election, the lives of children and families is at risk if the wrong candidates are elected, so to continue raise awareness, Students for Life will be catering the fall tour materials to fit every campus.
Every campus looks different this fall. Some are allowing limited forms of tabling and outreach, and some are banning it altogether. Students for Life of America has pivoted to meet the unique needs of every campus and pro-life group by creating in-person social distancing tours to keep everyone safe and digital tours to keep the activism at an all time high, because we know there has never been a more crucial time to persuade students to Sock the Vote.
Tier 1 Tour Options
This fall Students for Life will categorize what they are able to do with various schools for the tour by "tiers." Tier 1 schools are those who allow campus visits and they are free to participate in as many activities as offered. Some activities include in person-outreach with a Student for Life Regional Coordinator with the tour banner and 2,632 baby socks.
Tier 2 Tour Options
Tier 2 Schools will be social distancing. Even though they are limited when it comes to inviting their Regional Coordinator and doing person-to-person outreach, they can still do many activities, such as:
Chalking
Honoring babies who have lost their lives through a display called Cemetery of the Innocents with baby socks and yard signs
Handing out and hanging up flyers and brochure handouts
Using our exclusive tour slides for campus TV screens
Tier 3 Tour Options
Though Tier 3 Schools are the most limited Students for Life has created engaging and impactful opportunities for them as well through digital outreach.
If a school is completely digital this year, they will be able to participate by promoting the tour through geotargeted online ads, social media graphics, student body emails, sample op-eds, sample press releases, an online abortion quiz, and the attendance of an online speaker.
The Pro-Life Generation will continue on with the tour display this fall semester! To host the tour, visit SocktheVote.com, and click "Host the Tour". You can also click on "Take the Quiz" to see how you stand politically when it comes to abortion.
This November, remember to Vote Pro-Life First! The Pro-Life Generation and the pro-life mission will not be stopped!