From the SFLA Blog
Pro-Life Students Harassed on Minnesota Campus During Life Chain Event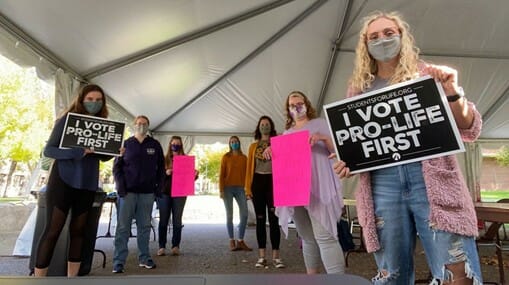 Mary Briganti - 15 Oct 2020
Life Chain Sunday is known for its powerful, prayerful presence by thousands who stand in solidarity across the country to remember the preborn. Although groups are not always met with support, this event is generally a peaceful way to kick off Respect Life Month. 
Not this year.  
Winona Students for Life President Jamie Scherdin was interrupted and verbally harassed while making a social media post about the group's presence at the local Life Chain Sunday event. 
Photos below from the WSU Pro-Choice group social media page: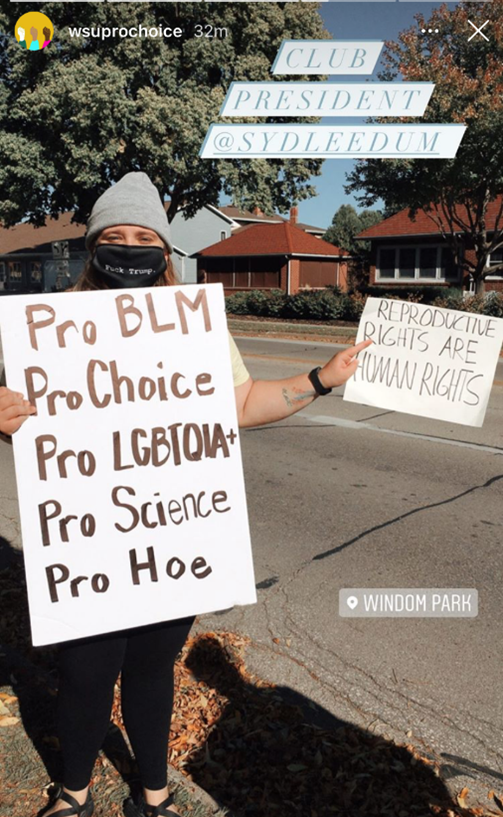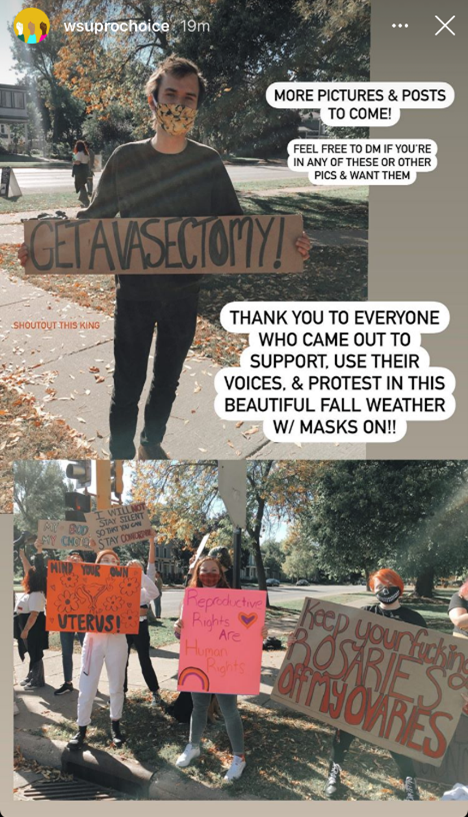 The WSU pro-choice club decided they would hold a protest to this event. They showed up and interrupted the hour of silence with bullhorns, signs, and provocative music and language. The premise here is not unlike what Students for Life would've done if the pro-choice group was having a pro-abortion event; we would've showed up and respectfully shared a pro-life message. The key difference is that the pro-choice club chose to be crass and engage in personal attacks. These students called attendees at this event, including community members and young children, Nazis, sexists, and deserving of rape. They also played over the loud speaker the song WAP by Cardi B.  
"While I was trying to take a video for our social media to explain what was happening, I was interrupted by pro-choicer telling me I picked the wrong campus, calling me a fascist, said they would laugh If I were to be raped, and clearly did not keep their distance of 6 feet from me. They also tried to make it about race and kept stating over and over again "you really listen to another white woman" in response to me trying to make my video." 
Jamie Scherdin,

SFLA Wilberforce Fellow

Alumni
Watch the video Jamie tried to make to document the situation:
One of the pro-choice students even pulled down her face covering to yell at the students. The pro-life students offered to engage in a conversation after the event to respect the hour of silence, but the pro-choice students refused. At the end of the event, the pro-life group had to go through and pick up the pro-choice students' signs after they left.  This is not acceptable behavior, and it is very apparent that these pro-choice students have no respect for life (or apparently campus littering policies).
This is not the first time pro-life students have faced adversity at Winona State. In November, the Students for Life group at WSU did pro-life chalking on campus. Students for Life reported at the time: 
"[…] at Winona State University in Minnesota, the pro-life student group, Warriors for Life, chalked life-affirming and anti-abortion messages on campus for Pro-Life Chalk Day. Then, pro-abortion students' minds exploded, and they did everything they could to condemn Warriors for Life for speaking out… including defacing their work in every way possible.
[…] By about 11:00 am the next day, kids were just about finished destroying everything we had created. They were pouring water on it, smudging it, and drawing x's over it. I talked with a group of girls as to why they thought it was okay to erase our words, and she said they were 'disrespectful.' I think she was afraid of the facts. Throughout the whole day, we ran into more kids defacing our life-affirming messages. One boy even spit on our chalking.
At this point, not only were our messages erased, but vulgar and hateful pro-choice speech was now scrawled all over the campus sidewalks. The messages these vandals wrote didn't even follow our campus's chalking policy.
This case of harassment is just about as bad as we've seen. And it just keeps getting worse. A pro-abortion blog group wrote a mean, slanted article about the incident. And the R.A. who encouraged the first couple of girls to vandalize the chalk refused to meet with anyone about it."
Moral of the story? Winona really needs to get it together when it comes to respect for other people (and their differing opinions) and understanding of what free speech entails.