From the SFLA Blog
Twitter Censors Picture of Smiling Three-Year-Old with Down Syndrome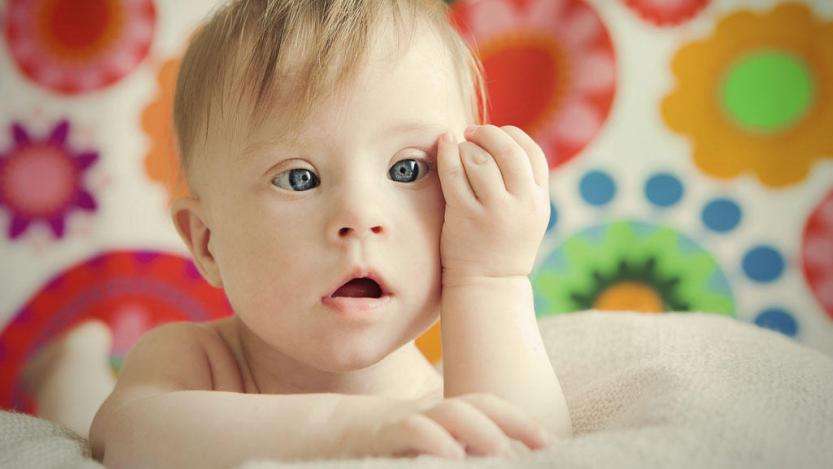 Brenna Lewis - 07 Oct 2020
The month of October is a time to recognize the value, dignity, and worth of those living with Down Syndrome in our country.  Each year, President Donald Trump issues a "Presidential Message on National Down Syndrome Awareness Month" on October 1. This year was no different.  While Trump said that "it is incumbent upon us as a Nation, to continue empowering them to reach their full potential," Twitter hid the image of Holt, a three-year old with Down Syndrome, share by his mother. In order to see the photo, described as containing "potentially sensitive content," users have to click 'view' or change their settings to see it automatically.
As of the afternoon of October 5, the image still is hidden as it is considered "potentially sensitive content."
Under "Your media settings," the site explains that "All Twitter accounts have media settings to help Twitter understand the type of media you are posting and to help us assist others to find the type of content that they're interested in."
Twitter claims that, with added emphasis, in "appropriately marking your media settings, Twitter can identify potentially sensitive content that other users may not wish to see, such as violence or nudity.
Russ Vought, Director of the Office of Management and Budget, tweeted the above-mentioned presidential message. User @trishie818 shared a picture of her three-year-old son, or at least she attempted to, which was then retweeted by Rep. Chip Roy, of Texas' 21st district.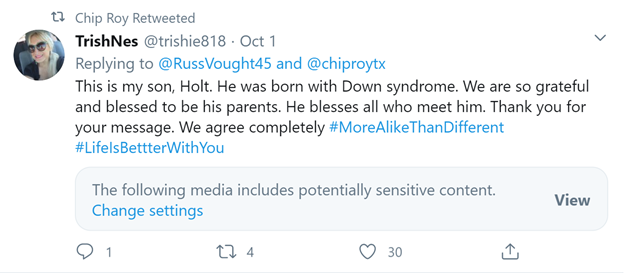 When Twitter first started testing this move in 2017, to censor this so-called "potentially sensitive content" it was questionable from the start. Further, it was inconsistent. Including many examples of censored tweets, Gizmodo called it "a Perplexing Mess."
Twitter has censorship of pro-lifers before, including in the ongoing and public bias against Live Action. Lila Rose, president and founder of the organization, wrote an op-ed column for USA Today in September 2018, detailing how Twitter censored ultrasound images, as well as how the social media platform prevented Live Action from purchasing ads unless the pro-life site took down certain of its content. Meanwhile, pro-abortion accounts were able to release ads against pro-life organizations and politicians, and even encourage self-managed abortions, against FDA regulations. In a tweet, Rose said this has been happening "for years."
Through his written statement and while at a hearing before the House Energy and Commerce Committee in September 2018, Twitter CEO Jack Dorsey claimed they don't "make value judgments" or ban content according to viewpoints.
An Executive Order from President Trump on May 28, 2020, however, detailed how "Twitter now selectively decides to place a warning label on certain tweets in a manner that clearly reflects political bias" and that "Unsurprisingly, its officer in charge of so-called 'Site Integrity' has flaunted his political bias in his own tweets."
In a Twitter post from November 2019 on their "Sensitive media policy," the company notes that "We recognize that some people may not want to be exposed to sensitive content, which is why we balance allowing people to share this type of media with helping people who want to avoid it to do so." Thus, it's Twitter making the determination of what ought to be censored, and it's clear they don't otherwise get it right.
Well, thank goodness Twitter is there to decide for users what is "potentially sensitive content," and to protect their users unless they go through the effort of changing their privacy settings. That such a picture of a smiling three-year old with Down Syndrome is censored underscores a greater concern.
The above-mentioned presidential message begins by noting that "In the United States, around 6,000 babies are born with Down syndrome every year." There would likely be many more, though, if so many babies diagnosed in utero with Down Syndrome weren't aborted, to the tune of 67 percent in the United States. Rates in Europe are much higher, including 98 percent in Denmark and close to 100 percent in Iceland.
Perhaps what people are "sensitive" to, is the fact that over a majority of babies diagnosed in utero with  Down Syndrome are aborted, an offensive statistic showcasing ableism in its worst form.