From the SFLA Blog
Media Fibs about Biden-Harris Abortion Positions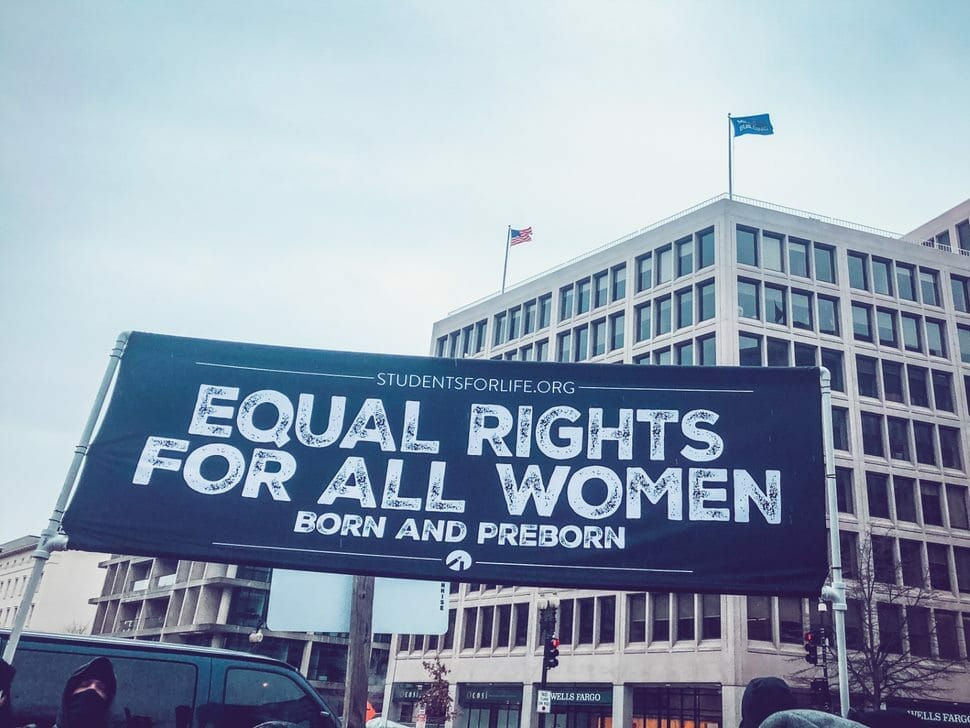 Brenna Lewis - 07 Oct 2020
Fresh out of Walter Reed, Trump used his Twitter on Tuesday morning to focus on the abortion issue.  Reactions were swift and predictable, but the president has a point.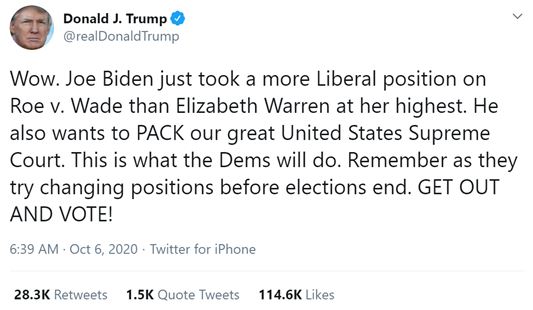 Trump referenced Joe Biden's NBC town hall performance, including when Biden answered a question about "protecting women's reproductive rights in the U.S." He addressed the possibility of, if on the Supreme Court, Amy Coney Barrett overturning Roe.  Biden responded "the only thing, the only responsible response to that would be to pass legislation making Roe the law of the land. That's what I would do."
This means Roe v. Wade would be codified into law, with federal law providing a permanent legacy, even if Roe were overturned.
The townhall's exchange made headlines, as did Trump's tweets. Rather than interpreting just how far-reaching the Democrats' response would be, many focused on Trump.
Mediaite's Colby Hall was particularly interested in a subsequent tweet from the president, using his platform to mislead and lie about Trump's warnings while claiming Trump is the one telling "Dangerous Lies."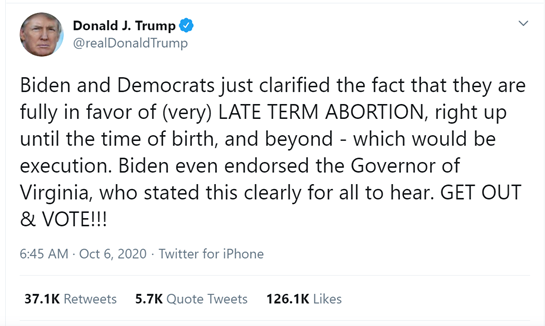 Hall's agenda is clear from the start, as he references the polls showing Biden ahead and Covid-19. Trump speaking the truth on abortion means he "appears to be reaching deep into his bag of political tricks" and that "Trump's effort to rally his base of supporters has now returned to spreading specious lies that Biden and Democrats want to kill babies."
"It seems crazy to have to write this, but Joe Biden and Democrats are not in favor of killing babies," Hall concludes. What really is crazy is the Democratic Party.
It should "rally" not just the base, but anyone aware of the Democratic Party's position on abortion. Hall is doing his part to ensure that's as few people as possible.
This extremism is allowed to hide undetected, thanks to those like Hall. When it comes to craftily framing the issue of babies being born alive from abortion using word spin and euphemisms, Hall succeeds. He talks about "how doctors handle non-viable and just-born infants" and doubles down on how these infants "could not survive on [their] own outside the womb."
In reality, these abortion survivors are dying a preventable death due to neglect. When Trump makes claims that Democrats would "execute the baby," he's somehow the crazy one. It's hard to see something more "dangerous" or more motivating than what happens to viable babies, who could survive, if only for the intervention of life-saving medical care.
The Democratic Party and the supportive media have forced Trump to be the one to expose such extremism.
That the Democratic Party, which Biden is adamant he is the head of, is "fully in favor of (very) LATE TERM ABORTION, right up until the time of birth, and beyond," is simple to confirm, if only Hall cared to try.
The Democratic Party Platform, coupled with candidate statements and voting records, reveals that the Democratic Party not only aims to codify Roe, but won't stand for any abortion regulations or restrictions. "We oppose and will fight to overturn federal and state laws that create barriers to women's reproductive health and rights, including by repealing the Hyde Amendment and protecting and codifying the right to reproductive freedom," the platform reads.
Gone are the days of Biden's mixed record on abortion now that he's the Party's nominee; Harris was always pro-abortion.
Politico placed Harris in the "Few limits, if any" category on abortion, which mentions these candidates indicate "no reference to government limits that they would support."
In February 2019, the Daily Caller News Foundation asked if there was a point in pregnancy she considered abortion to be immoral. "I think it's up to a woman to make that decision, and I will always stand by that."
As a junior senator still in her first term, Harris has voted twice against the Pain-Capable Unborn Child Protection Act. In a Medium post, she described the legislation as one which "took direct aim at a woman's right to make her own health decisions," was "blatantly unconstitutional" and "play[s] politics with people's lives."
Harris has even voted twice against the Born-Alive Abortion Survivors Protection Act, which would require that babies born alive from an abortion received medical care.
She was one of 43 sponsors of the Women's Health Protection Act (WHPA) of 2019. If passed, states would have to ensure their legislation regulating or restricting abortion did not violate such this would-be federal law, or the parameters set by Roe v. Wade.
While running for president, Harris unveiled a plan in which certain pro-life states would be required to obtain preclearance from the Department of Justice (DOJ) before they could enact pro-life legislation.
Harris may only be Biden's running mate, but her influence remains. The Biden campaign website reads that he "will work to codify Roe v. Wade, and his Justice Department will do everything in its power to stop the rash of state laws that so blatantly violate Roe v. Wade."
It's not merely a matter of semantics of Trump's tweeting or so-called "dangerous lies." A Biden administration will "kill babies," through the horrors of legal abortion, which will be even more permissive than it has ever been before. The writing is on the wall; we must fight back against the claims which say otherwise.