From the SFLA Blog
Getting Punched at the Supreme Court is Likely Just the Beginning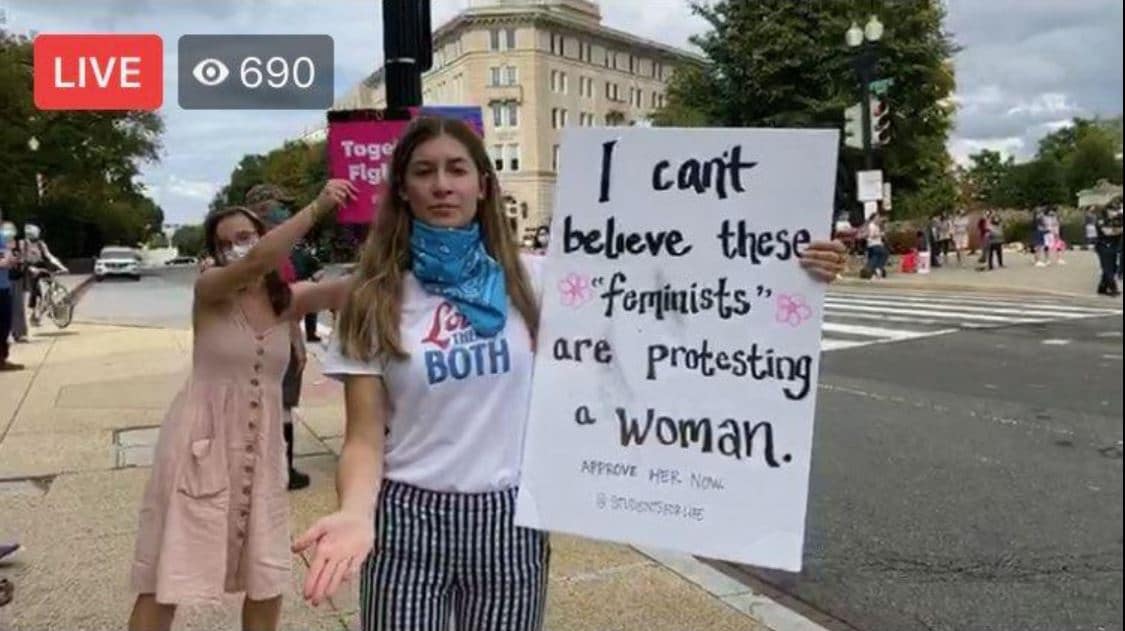 Brenna Lewis - 02 Oct 2020
While countering a pro-abortion rally outside the U.S. Supreme Court on Sunday, SFLAction team member Autumn Schimmer was punched in the face. Autumn, while peacefully making her support for Judge Amy Coney Barrett heard. The incident took place at a rally organized by Planned Parenthood and NARAL Pro-Choice America.
At one point, a pro-choice woman wanted to speak with Autumn about her sign and "about what feminism is." Although the woman mentioned having "a peaceful conversation," it was anything but when she punched Autumn and walked away over disagreeing on feminism.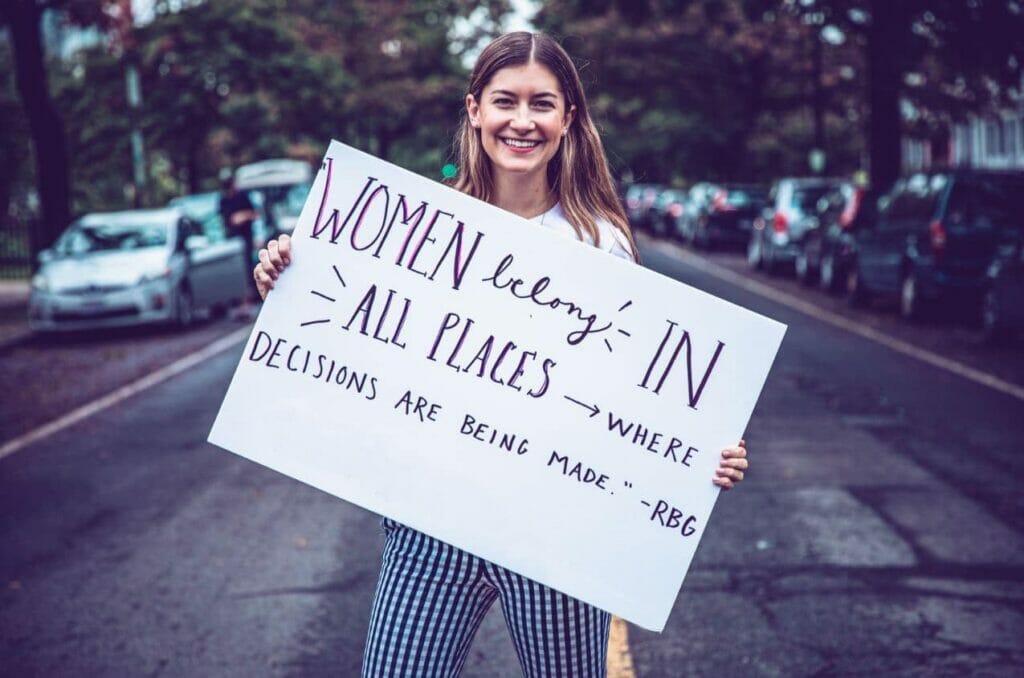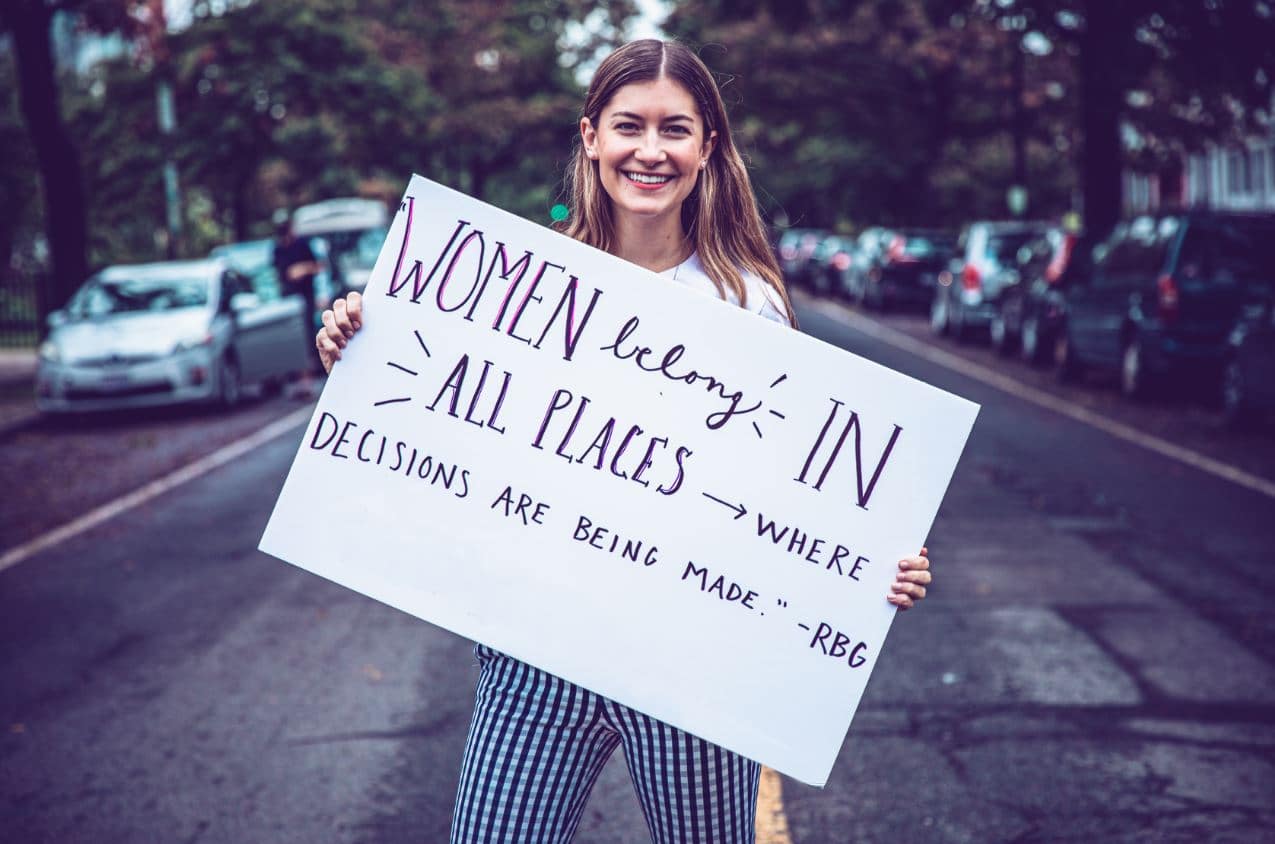 Many outlets there took live streams and photos. The woman was ultimately identified, arrested, and charges were pressed.
Another team member, David Cordaro had his phone knocked from his hand, interrupting the live feed. In PART 2 AFTER HAVING THE PHONE KNOCKED OUT OF OUR HAND, David emphasized:
Violence of abortions leads to all other types of violence. People being punched, violence in our streets, windows being smashed in, buildings being burned. This is what we're seeing when we devalue human life from the very beginning, when we devalue human life from the very beginning this is what happens… this is what we can expect.
Autumn spoke about the incident over social media:
I don't want to be remembered for being assaulted by a pro-choice woman outside the Supreme Court because she didn't like my definition of feminism.
I want to be remembered as a young, passionate, pro-life, Catholic woman dedicating my life to the cause. An act of violence toward me is nothing compared to the violence shown to the preborn in the womb. I wouldn't change a thing about how today went; it has only made me more passionate to advocate for the pro-life movement.
Also, you aren't a feminist if you physically assault another woman. Just keep that in mind.
Societal tension has led some to turn to the violence of looting, rioting, and setting fires. One can only imagine what they'll do if the upcoming presidential election doesn't go their way.
That President Donald Trump would nominate Judge Amy Coney Barrett to the high court, who is supported by pro-lifers, leaves abortion advocates so frantic that they would turn to assault, as they did on Sunday. This was not a one-time display of anger, though.
Abortion advocates gathered outside the Supreme Court on September 19, the day after Justice Ruth Bader Ginsburg had died. The event was supposed to memorialize Justice Ginsburg, but mostly focused on abortion. While President Trump had not yet announced Judge Barrett as his choice, he indicated it would be a woman. Hogue, president of NARAL, not exactly a fringe speaker, denigrated such a nominee before a cheering crowd, because the potential nominee did not meet her definition of a real woman. Luckily Hogue is there to re-educate us on what makes a true woman.
I heard plenty of cries from speakers pledging to fight against Senate Majority Leader Mitch McConnell, that they would not stand for him confirming Trump's judicial nominee.
This doesn't exist in a vacuum. Following Justice Ginsburg's death, tweets surfaced from verified accounts with unambiguous calls for violence.
In my many years of attending events as a pro-life presence, I mostly have prayed, worshiped, and attended peaceful rallies. I can say unequivocally that abortion advocates are an angry, crude, and insulting bunch.
Their level of outrage does not make sense, however. In the 47 years that Roe v. Wade has been legalized in all 50 states, 61 million lives have been lost to the violence of abortion. While running for president, Kamala Harris revealed a plan requiring states to obtain clearance from the DOJ before pro-life laws went into effect. So much for federalism. Harris is now running to be Joe Biden's vice-president, as part of a ticket which will codify Roe.
With the strict limitations states are under—which will worsen under a Biden administration—abortion advocates have the upper hand. They don't have to convince anyone of their position. They're at an unfair advantage because judicial activists legislated from the bench.
From the hysteria, one would think that Roe was scheduled to be overturned tomorrow and would immediately make abortion illegal in all 50 states. The hypothetical overturning of Roe, means states would decide their own abortion laws. This extreme level of outrage is almost certainly manufactured from groups like NARAL, in order to fire up their base.
The tragedy of the dehumanization and violence against the preborn motivates me that much further in my aim to abolish abortion. Being pro-life also means I only turn to peaceful means. I can't even fathom committing violence against an abortion advocate, and neither could pro-lifers across the entire movement.
In March 2016, I was outside the Supreme Court during oral arguments for Whole Woman's Health v. Hellerstedt, where it was similarly chaotic. While Rep. Steve Scalise, one of many members of Congress present, was speaking, someone tried to rush the podium, though security promptly saw to the matter.
Members of Congress also speak at the above-mentioned pro-abortion rallies. There was no evidence of such tension from pro-lifers.
It logically follows that violence in the womb begets violence in the streets. Students for Life will continue to speak out against all of these kinds of violence.