From the SFLA Blog
SUCCESS: "Black Preborn Lives Matter" Painted on Baltimore City Street, in front of Planned Parenthood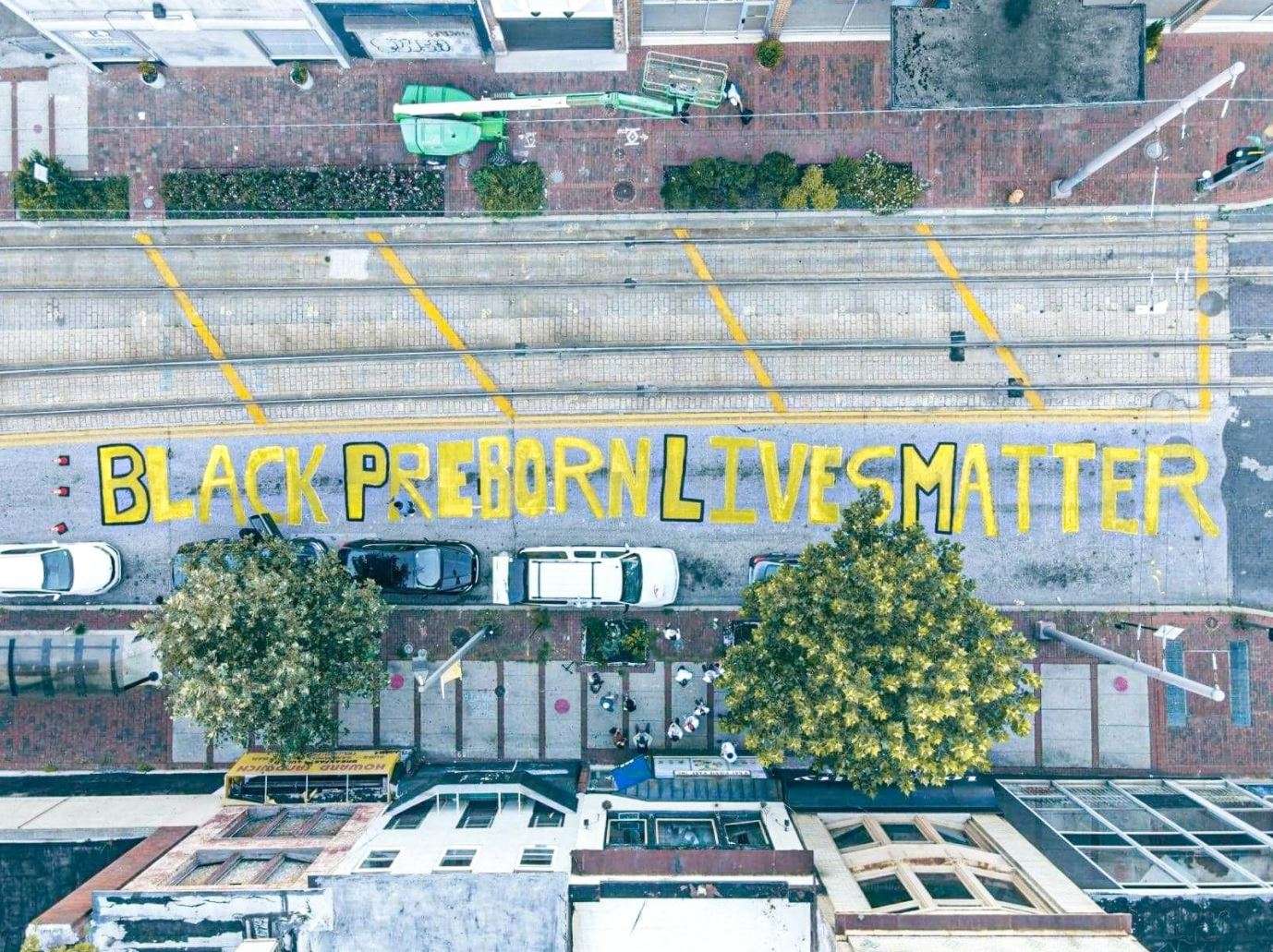 Kristi Hamrick - 05 Sep 2020
Students for Life of America & The Frederick Douglass Foundation joined with the Black Community in Baltimore to take a stand for Women and the Preborn
"If we are not free to share our grief over the loss of life from abortion in our own communities, we are not really free at all," said Students for Life of America's Kristan Hawkins. "Joining together to peacefully tell the world that BLACK PREBORN LIVES MATTER is our right as Americans and our duty as citizens."
"Frederick Douglass said, 'To suppress free speech is a double wrong. It violates the rights of the hearer as well as those of the speaker.' Freedom of expression is as foundational to our nation as the right to life. By attempting to peacefully paint BLACK PREBORN LIVES MATTER in front of Planned Parenthood abortion facilities around the country, we are shining a light on the racial injustice of the abortion industry," the Rev. Dean Nelson, The Frederick Douglass Foundation and the Human Coalition Action.
BALTIMORE, MD (09-05-2020) – Students for Life of America joined The Frederick Douglass Foundation and Human Coalition Action along with Black community leaders in Baltimore to confront the violence of abortion Saturday, painting BLACK PREBORN LIVES MATTER on the 300 block of North Howard after the Baltimore mayor allowed other groups to express political and social points of view on city streets.  Police who came to observe the event permitted the free speech.
Drone video and pictures will be available across Students for Life of America's platforms and at the website. Click here to see more.
The effort comes at a time in which Planned Parenthood's racist past and present are making headlines. Even Planned Parenthood past and present employees acknowledge the racist roots and history of the nation's No. 1 abortion vendor, which seems to be impacting their current working environment. Consider that though only 13 percent of the female population, African American women make up 38 percent of all reported abortions. Perhaps that is because 4 out of 5 Planned Parenthood vendors are within walking distance of minority-dense neighborhoods, according to a Supreme Court amicus brief.
Click here for a video of Kanye West describing the Black Genocide that is abortion. For more on Planned Parenthood founder Margaret Sanger's racist and eugenics past, click here to read Hawkins' op-ed in USA Today.
Before the painting, city officials did not response to a letter to the mayor asking for permission to add our free speech to city streets. SFLA and FDF noted: "Having opened the streets of your city for public expression, Students for Life of America (SFLA) and The Frederick Douglass Foundation (FDF) request the opportunity to add our voices to those concerned about the treatment of people of color in America. Black Lives do matter, born and preborn, as too many people are lost in America today from causes that should be addressed and prevented for their disproportionate impact on minority communities. City officials intervened to allow a Black Lives Matter artwork to continue to be displayed … Your original decision to paint "Black Lives Matter" on the street may very well be government speech. However, your decision to allow private citizens to paint additional messages such as "Defund the Police" and "Black Trans Lives Matter" and to intervene on behalf of a public display of another's speech indicates that public areas are now an open forum for free speech. You are not permitted to discriminate on the basis of viewpoint in making determinations relating to public assemblies in public fora. The message of the preborn will not be silenced."
The successful painting followed a similar project in Washington D.C., where outside groups were allowed to paint "Defund the Police" alongside the city's Black Lives Matter speech on the city streets. During that event, two Students for Life students were arrested for attempting to chalk BLACK PREBORN LIVES MATTER after police prevented the painting. Legal action is underway regarding those events.
In response, a Black Preborn Lives Matter Billboard campaign was launched in strategic locations around the country with more billboards expected to go up. The same week the billboards were released, President Trump promised to fully defund the abortion Goliath in his second term. Click here to read more.
The Pro-Life Generation cannot be silent on the horrors of abortion. As Martin Luther King Jr. once said, "Our lives begin to end the day we become silent about things that matter."
For questions or an interview, please contact Kristi Hamrick at [email protected].
–30–
Students for Life of America (SFLA) is the nation's largest, pro-life, youth organization. Headquartered in Fredericksburg, VA, SFLA serves more than 1,240 groups on college and university, middle and high school, medical and law school campuses in all 50 states. Student pro-life organizations work to confront policies on their campuses to support pregnant and parenting students, to end Planned Parenthood's relationships with schools and communities, and to change minds of their peers about abortion. SFLA has more conversations with those most targeted by the abortion industry every day, week, and year than any other pro-life outreach in the world and mobilizes the Pro-Life Generation to confront abortion at the local, state and national levels daily. Every week, Students for Life entities reach more than 2 million people across social media platforms to have nearly 200,000 digital conversations with the most engaged, pro-life, online audience in the world.
Human Coalition is one of the largest pro-life organizations in the nation, operating a growing network of telehealth and brick-and-mortar women's healthcare centers across the nation. Human Coalition Action is the public policy advocacy 501(c)4 arm of Human Coalition advocating for preborn children by challenging legislators to vote for pro-life policies, informing voters about pro-life candidates, and supporting pro-life legal arguments in the Courts.