From the SFLA Blog
Here's a List of Ways the Trump Administration Has Protected Preborn Life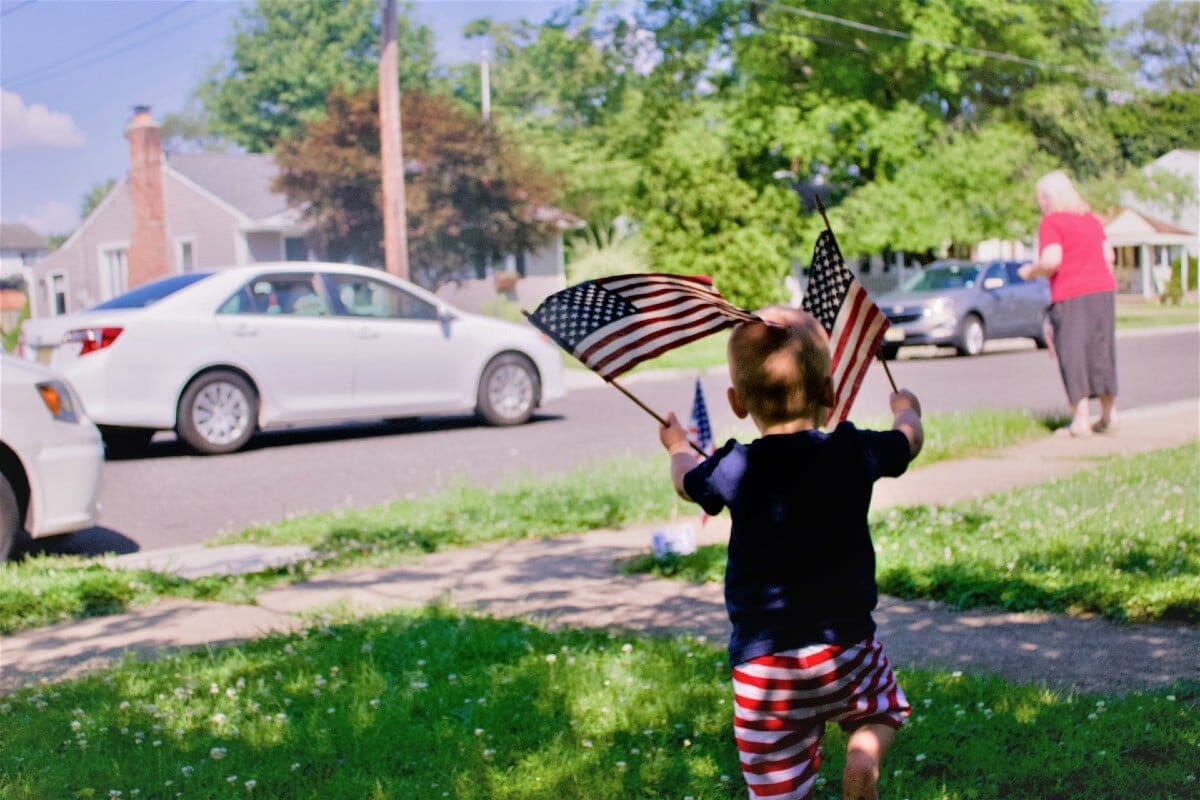 Brenna Lewis - 04 Aug 2020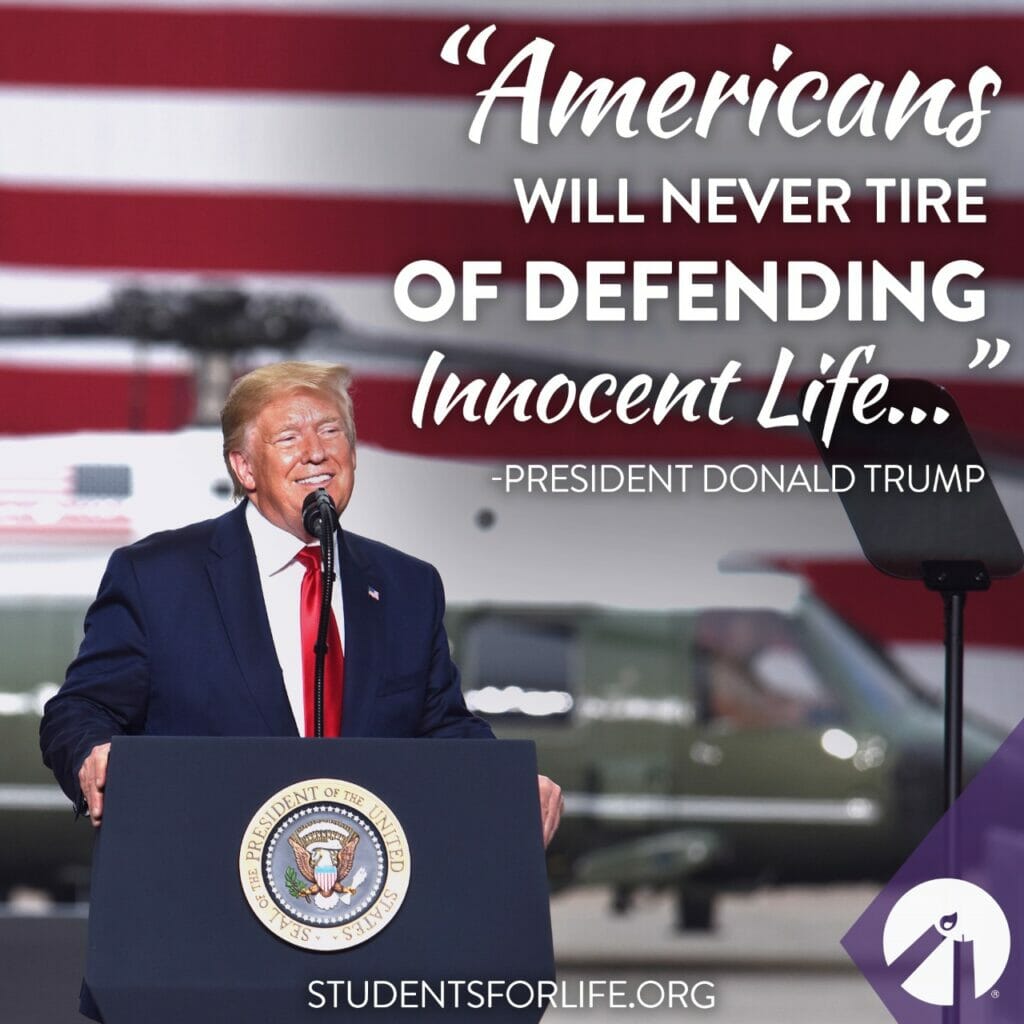 At Students for Life, we're single-issue voters and proud of it. Abortion is the greatest human rights injustice of our day and thus, we believe, a worthwhile motivator behind casting a vote. Donald Trump and his administration made some promises to the pro-life movement at the start of his tenure, and our movement wants to help each of them come to fruition. What follows is a factual recap of what this administration has done thus far to protect preborn life (and conscience rights).
Asking the FDA to Keep Health & Safety Standards for Abortion Pills
In their petition, the Administration asserted: "The FDA has made, and continuously adhered to, the judgment that these requirements mitigate serious health risks associated with the drugs, which can increase if the patient delays taking the drug or fails to receive proper counseling about possible complications."
Read SFLA's press release here.
The petition also notes: "The circumstance here – in which a single district court, presented with a suit by a single physician and a handful of organizations, displaced the FDA's scientific judgment with respect to every medication provider in the country – illustrate the problems with allowing district courts to award relief untethered to the established injuries of the specific plaintiffs before them."
Yet, a single judge blocked the health and safety standards, with the stroke of a pen, impacting the nation. The Trump administration asked that the health and safety standards remain in place as the ACLU case proceeds.
Title X Reforms
Title X Final Regulation: In February 2019, HHS finalized a new Title X regulation that ensures compliance with statutory program integrity provisions, including the statutory prohibition on funding programs where abortion is a method of family planning, and no longer permits Title X-funded family planning services at the same location where abortion is provided. HHS is vigorously defending the final rule against litigation.
Redirecting Relinquished Title X Funds: Rather than comply with the Title X final rule, certain former grantees (i.e. Planned Parenthood) relinquished their grants. The HHS Office of Population Affairs awarded the relinquished funds (more than $33.6 million) to 50 of the remaining grantees. These funds will be used to expand services in unserved or underserved areas.
Broadening Participation in Title X: In its August 2018 Title X grant awards, HHS reprioritized Title X funding to applicants who connect patients to a broader continuum of primary care, protect victims of sexual abuse, and encourage family involvement in family planning decisions, consistent with the statute and regulations. These awards funded 12 organizations that were not current Title X grantees, including state health departments, a faith-based organization, and several community health centers.
Conscience Rights
Protecting Healthcare Workers' Conscience Rights: In August 2019, OCR issued a notice of violation to the University of Vermont Medical Center, which violated the Church Amendments by forcing a nurse to assist in an elective abortion over her conscience-based objections.
Finalized Conscience Regulation: In May 2019, HHS finalized a rule to protect individuals and health care entities from discrimination on the basis of their exercise of conscience in HHS-funded programs and strengthened enforcement procedures for 25 health-related federal conscience and religious freedom laws, so that such laws can be enforced as robustly as other civil rights laws enforced by OCR. HHS is defending the final rule against challenges to it. While the final rule is being litigated in court, OCR will continue to vigorously enforce the law under pre-existing authorities.
Enforcing Weldon & Coats-Snowe Amendments: In January 2019, the HHS Office for Civil Rights (OCR) notified the State of California that its law requiring pro-life pregnancy resource centers to refer clients for abortions, by posting notices about free or low-cost family planning services and abortion, violated the Weldon and Coats-Snowe Amendments. This is the first time that any state has been found in violation of these laws, reflecting HHS's heightened commitment to enforcing conscience protection statutes.
Protecting Conscience in Health Insurance: In November 2018, HHS and the Departments of Labor and of the Treasury issued two final rules to provide regulatory relief to American employers, including organizations like the Little Sisters of the Poor, that have religious or moral objections to providing coverage for contraceptives, including those they view as abortifacient, in their health insurance plans. The Departments are vigorously defending the final rules, and the Supreme Court has granted the government's petition for writ of certiorari to review a decision by the Third Circuit striking down the final rules.
New Division to Protect Conscience and Religious Freedom: In January 2018, OCR launched a new Conscience and Religious Freedom Division, the first time a federal office for civil rights has established a separate division dedicated to ensuring compliance with and enforcement of laws that protect conscience and free exercise of religion in healthcare and human services.
The Affordable Care Act and Abortion
Separate Billing for Abortion Coverage: In December 2019, HHS issued a final rule to require issuers of Qualified Health Plans—individual insurance plans under the Affordable Care Act (ACA)—to bill and send separate invoices for insurance coverage of non-Hyde abortions.
Ensuring Access to Policies without Abortion Coverage: In January 2019, HHS issued a proposed rule to require that insurance companies that offer ACA plans covering abortions of pregnancies that do not threaten the life of the mother or result from rape or incest must also offer at least one identical plan in the same geographic area that does not cover these abortions. (The rule would not apply in states with abortion coverage mandates.)
Transparency on Abortion Coverage on HealthCare.gov: Starting with the 2019 open enrollment period, HHS ensured for the first time that consumers could identify whether a plan covers non-Hyde abortion by clearly displaying such information on HealthCare.gov.
Hardship Exemption: In April 2018, CMS issued guidance to allow individuals to claim a hardship exemption from the individual mandate if all affordable plans offered through the federal exchanges in an individual's area included abortion coverage, contrary to the individual's beliefs.
Medicaid and Abortion
Approved Texas Medicaid Demonstration: In January 2020, CMS approved a Medicaid demonstration requested by the state of Texas that will allow the state to provide Medicaid-funded family planning services to otherwise uninsured women in accordance with state law, which in part prohibits the use of funds to contract with entities that perform elective abortions.
Rescinded Guidance that Limited States' Ability to Take Action Against Abortion Providers: In January 2018, CMS rescinded April 2016 guidance that curtailed states' ability to set reasonable standards for determining which providers can participate in their Medicaid programs. 
HHS Issues Notice of Violation to California for its Abortion Coverage Mandate: In January 2020, OCR issued a Notice of Violation to the state of California, formally notifying California that it cannot impose universal abortion coverage mandates on health insurance plans and issuers in violation of federal conscience laws.  California had deprived over 28,000 people of plans that did not cover elective abortion, but now must cover abortion due to California's mandate.
Protecting Life During COVID-19
OCR Issues Bulletin on Civil Rights Laws and HIPAA Flexibilities That Apply During the COVID-19 Emergency: In March 2020, the Office for Civil Rights (OCR) at the U.S Department of Health and Human Services (HHS) is issued a bulletin to ensure that entities covered by civil rights authorities keep in mind their obligations under laws and regulations that prohibit discrimination on the basis of race, color, national origin, disability, age, sex, and exercise of conscience and religion in HHS-funded programs, including in the provision of health care services during COVID.
OCR Resolved Religious Discrimination Complaint after Maryland Hospital System Ensures Patients Can Receive Religious Visitations During COVID-19: In July 2020, a religious discrimination complaint against Prince George's Hospital Center of the University of Maryland Medical System (UMMS) after UMMS adopted new policies ensuring clergy access to patients for religious purposes during the COVID-19 pandemic.
Protecting Medical Student's Religious Needs During COVID-19: In July 2020, OCR resolved a complaint against Staten Island University Hospital (SIUH) in New York City after SIUH accommodated the needs for a medical student to keep a beard according to his faith while using Personal Protective Equipment (PPE) during the COVID-19 pandemic.
Protecting Life and Lives in Global Health Policy
 "There is No International Right to Abortion": A total of twenty-four countries, representing more than one billion humans, signed joint statements in 2019 at the U.N. General Assembly, World Health Assembly, and/or Nairobi Summit coalescing on the principle that there is no international right to abortion. Secretary Azar delivered this message directly on the floor of U.S. General Assembly in September, 2019.
Joint Letter from Secretaries Azar and Pompeo: A joint secretarial letter from the heads of HHS and the Department of State was sent to their counterparts in approximately 70 nations, inviting them to join a coalition to oppose efforts to insert political language in international documents that assert an international right to abortion. Thirty-four nations attended a January 2020 meeting on this topic hosted by Secretary Azar at the Blair House.
Changing the U.S. Message: HHS continues to fight the concept of abortion as a fundamental human right, as evidenced by statements, votes called, amendments offered, and resolutions opposed at international forums. The Trump administration does not recognize abortion as a method of family planning and refuses to fund abortion in global health assistance.
Protecting Life in Global Health Assistance: HHS worked with the Department of State to implement President Trump's restored and expanded Mexico City Policy, now known as "Protecting Life in Global Health Assistance," to ensure that, consistent with applicable law, global health assistance administered by HHS is not provided to foreign non-governmental organizations that provide or promote abortion as a method of family planning.
Protecting Life and Preventing Discrimination in HHS Grants and Research
Ensuring Equal Treatment for Faith-Based Organizations: In January 2020, HHS proposed regulations to ensure equal treatment of faith-based organizations by removing barriers to full and active engagement by the faith-based community in HHS social service programs and initiatives.
Funding to Support Child Welfare Services: On March 27, 2020, the President signed a $2 trillion emergency relief bill aimed at providing economic relief to the nation's families, workers, and businesses. The Coronavirus Aid, Relief, and Economic Security (CARES) Act provides the Administration for Children and Families (ACF) with $6.3 billion in additional funding that will aid in the continuation of work protecting, supporting, and uplifting our vulnerable communities during this public health crisis.
Protecting Religious Freedom in HHS Grants: In November 2019, HHS issued a proposed rule that would revise certain regulatory provisions adopted by the previous administration that concerned faith-based organizations, and foster care and potential adoptive families and children. At the same time, HHS issued a notice of non-enforcement of these and other regulatory provisions adopted by the previous administration because of serious concerns about the prior administration's compliance with the Regulatory Flexibility Act.
Addressing Funding of Research Involving Human Fetal Tissue from Elective Abortions: In June 2019, HHS announced the Administration's policy with respect to the use of human fetal tissue from elective abortions in HHS-conducted or -funded research: Intramural NIH research involving human fetal tissue from elective abortions would be discontinued. New extramural grant applications, or current research grants in the competitive renewal process, will be reviewed by an ethics advisory board which would recommend whether, in light of ethical considerations, NIH should fund the research project.
Protecting Conscience in Foster Care and Adoption: In January 2019, HHS issued an exemption from certain regulatory requirements to help protect the right of various faith-based non-profits in South Carolina to retain their religious character while partnering with the state in providing foster care services.
Finalized Rule on Section 1557 in ACA to Protect Civil Rights in Health Care, Restore the Rule of Law and Relieve Americans of Billions in Excessive Costs: Under the final rule, HHS will continue to vigorously enforce federal civil rights laws prohibiting discrimination on the basis of race, color, national origin, disability, age, and sex in healthcare, as Section 1557 provides.  "HHS respects the dignity of every human being, and as we have shown in our response to the pandemic, we vigorously protect and enforce the civil rights of all to the fullest extent permitted by our laws as passed by Congress.  We are unwavering in our commitment to enforcing civil rights in healthcare," Roger Severino, Director of the Office for Civil Rights at HHS.
Empowering Americans with Disabilities
To mark the 30th anniversary of the Americans with Disabilities Act, HHS has compiled some of the achievements under President Trump to empower, support, and protect Americans with disabilities, made possible by work at HHS, by our partners in state and local government, and by advocates and Americans with disabilities.  (See "Fact Sheet: Trump Administration Accomplishments to Empower Americans with Disabilities")
Planning Actions
HHS Five-Year Strategic Plan: In February 2018, HHS updated its five-year Strategic Plan for 2018-2022, which highlights that a core component of HHS's mission is the dedication to protecting the life of all Americans at every stage of life, beginning at conception.