From the SFLA Blog
Meet the New 2020-2021 Student Spokespersons!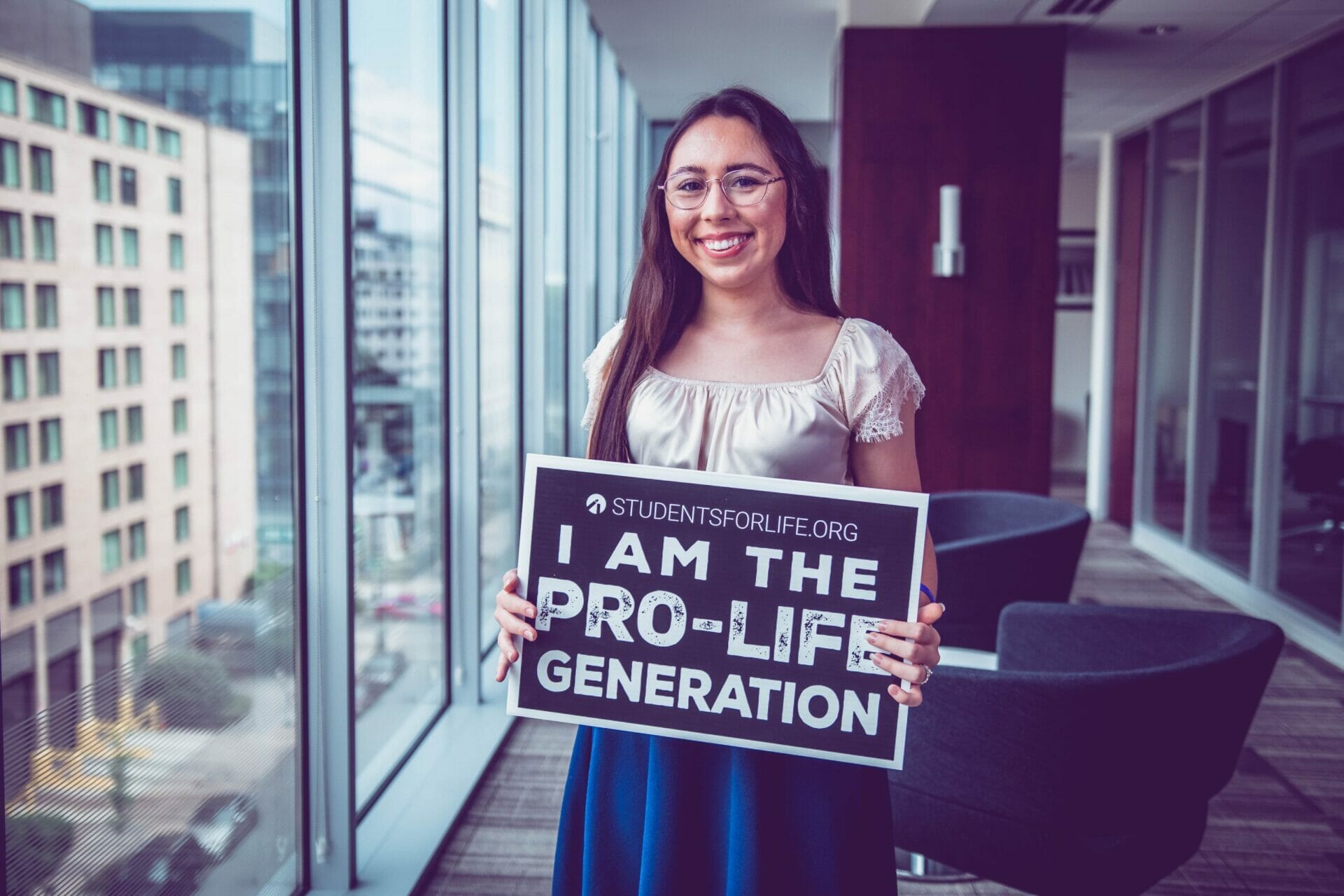 Mary Briganti - 20 Jul 2020
This June, five incredible students were chosen to represent the Pro-Life Generation as SFLA Student Spokespersons! These students are next-level leaders who will spend the year learning to communicate the pro-life message on a national platform by working one-on-one with pro-life experts in their field of interest. Each brings a unique story and set of skills to the position, and we can't wait to see what they accomplish. 
What is a Student Spokesperson?
The Student Spokesperson Program is a Students for Life of America Initiative that trains advanced pro-life student leaders in communications and media relations efforts. A Student Spokesperson is a college student leader who has completed or is enrolled in an SFLA leadership program in addition to playing a key role in leading activism on campus and in the community.  
Who are the 2020-2021 Student Spokespersons?
 

Savanna Beaurline

2019-2020 Wilberforce Fellow 

2019-2020 & 2020-2021 State Captain 

University of Northwestern 

Minnesota  

About Savanna…

Ever since I was little, I have been passionate about protecting the sanctity of human life. I knew from a very young age that life was precious and that it is a gift to be protected. As I grew older, my passion for the pro-life movement grew. Ever since a few years ago, I knew that I wanted to dedicate my life and career to the pro-life movement.
 
I started and serve as the president of the Students for Life group on my campus. This school year will mark three years of my running Northwestern Students for Life. I have also campaigned for pro-life candidates ever since I was 8 years old. My first campaign work was for John McCain and Sarah Palin in the 2008 election.

I plan to become a pro-life lobbyist after I graduate with my Interdisciplinary Studies major with a focus on Political Communications and Family Advocacy. 

 

Miles Wiley

2019-2020 Effective Education Pillar Leader  

2020-2021 State Captain 

Centralia College 

Washington 

 About Miles…

I got involved in the pro-life movement because there are so many innocent babies who are killed every day. I believe that people need to speak up for them and the pro-life movement does that. I have been a part of the 2019 California mission trip, as well as a two-day leadership bootcamp with Leadership Institute in the Fall of 2019.

I also participated in the 2020 March for Life in Washington D.C., paired with the 2020 National Pro-Life Summit. My plans for the future are to graduate college with my bachelor's in Applied Business Management, and to continue writing and releasing original music. I am a creative person and I love to come up with new ideas and ways to do things. 

 

Melanie Salazar

2018-2019 Wilberforce Fellow 

2019-2020 State Captain 

University of Texas at San Antonio 

Texas 

About Melanie…

I am a senior at the University of Texas at San Antonio majoring in Communication and double minoring in Spanish and Civic Engagement. In early high school, I was merely "personally pro-life." When college came around, I learned more about the truth of my faith and with that, the truth about abortion. Upon learning there was a pro-life group at my university, I joined, was completely committed, and soon became the group president for a year and a half.

Since becoming a Student Leader for SFLA in 2018, I've also become a William Wilberforce Fellow, participated in the Texas Pro-Life Summer Leadership Academy, helped with the confirmation of Justice Brett Kavanaugh to the Supreme Court by participating in the Justice For Life Tour, volunteered on a pro-life mission trip to Australia, and lobbied and testified a part of my time as the Texas Co-State Squad Captain for Students For Life Action.  

I currently intern for the San Antonio Coalition For Life and work as a sidewalk advocate. I am on hiatus in order to work as Campaign Intern for Students For Life Action's summer deployments. My future plans are to work full-time for SFLA, earn my master's degree in Bioethics, and to begin a Catholic pro-life ministry of my own.  

 

Lauren Marlowe

2020-2021 Christian Leadership Fellow 

Liberty University  

Virginia 

About Lauren…

I am the President of the Students for Life group at Liberty University and am graduating soon with a Bachelor's degree in Psychology & Adolescent Development. I am involved with a variety of scholarly and societal causes, from conducting and publishing psychological research to serving as a personal advocate for domestic violence and assault victims, but nothing excites me more than working in the pro-life movement! 
 
Though I spent many regretful years as an avid pro-choice activist, I am now proud to stand with the pro-life movement and fight for the rights of pre-born humans. I am most passionate about intervention for women facing unplanned pregnancies, providing support to pregnant and parenting students, reaching students and voters via social media, and giving other pro-life students the strength to speak out about their beliefs. Our generation is heavily influenced by social media, which is why I believe that the pro-life movement should focus much of their efforts on effective media communications! As a Student Spokesperson, I am eager to work with this aspect of the pro-life movement.  

 

Erin Quinn

2019-2020 Christian Leadership Fellow 

University of Dallas 

Texas 

About Erin…

My name is Erin Quinn and I am a Kansas City, Missouri native who attends the University of Dallas. I have been involved in the pro-life movement since I was a young girl when I went with my mother while she volunteered for a pregnancy resource center. I served as the president of my pro-life group in high school, but I did not become an active pro-life leader until college. 

I graduated from the Christian Leadership Fellowship for Students for Life of America, and am currently a Fellow for the Dr. Joseph Graham Fellowship in Texas. These two fellowships have introduced me to incredibly passionate pro-life activists with whom I seem to have found my niche.  
 
Now more than ever, I feel the Pro-Life movement needs to stand up and fight to oppose Roe vs. Wade on a federal level, as well as strengthen women of all nationalities and cultural backgrounds who are told the "right thing to do" is to abort their child rather than carry their babies to term. I hope to commit my entire life to the pro-life movement, and to show others how being pro-life is pro-woman. 
Make sure to follow Students for Life on social media so you never miss a thing from these rock star pro-life students.