From the SFLA Blog
Pro-Life Student Goes Undercover to Pro-Choice Workshop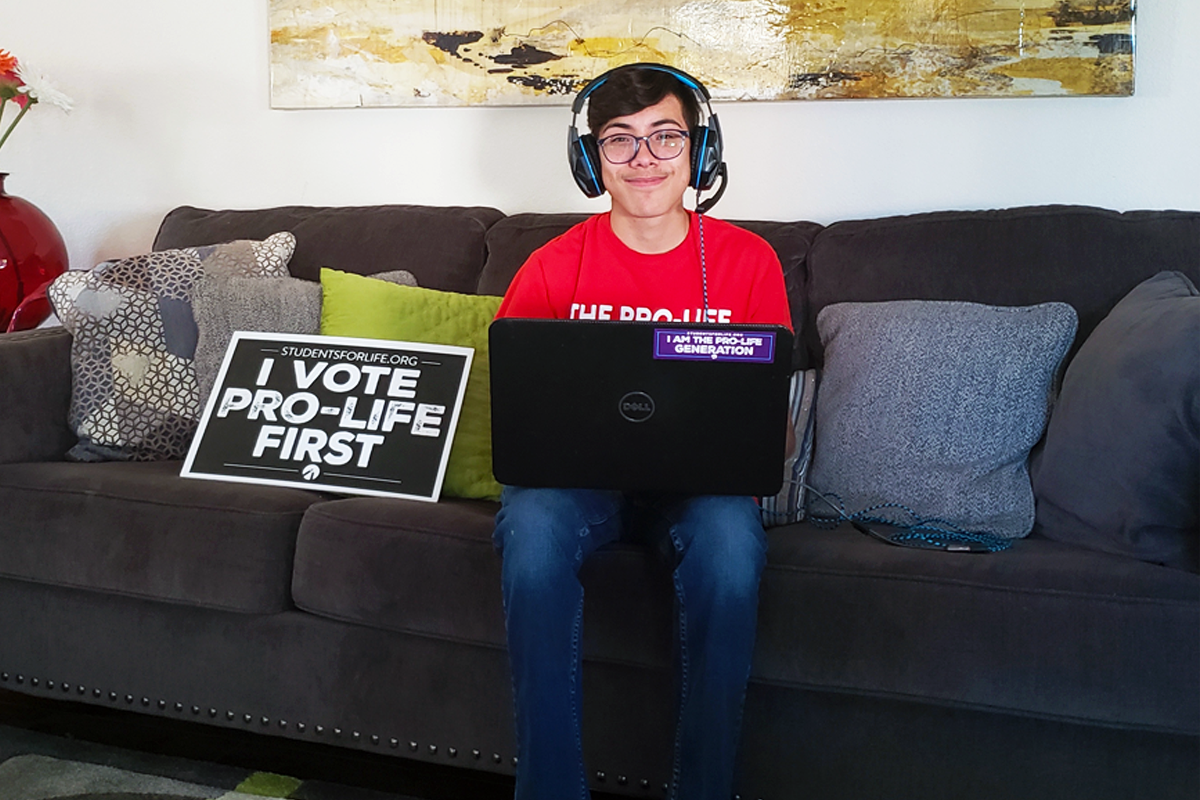 SFLA Staff - 18 Jun 2020
As the public policy captain for Nevada through Students for Life Action, I have the task of organizing a group of student leaders to counter pro-choice meetings. So when NARAL Pro-Choice America publicized a Zoom event, I jumped on the opportunity. 
The event was advertised on Facebook as "Story of Self-How to Share Your Passion," and was open to the public.
The meeting began with a "community check-in" where all attendees started by introducing themselves in the chat. Then NARAL explained how they would be talking about the difference between "story of SELF," "story of NOW," and "story of US." All of these terms have to do with how a person goes about making a change in the world. "SELF" refers to personal experiences that are calling us to leadership, "NOW" is how we will go about making change, and "US" is how shared values and shared experiences can enable us to foster a sense of community and urgency in regards to the change.
Finally, we heard from the featured speaker: Dr. Kamila Malinowska, a pro-choice physician who began by telling attendees her personal story as to why access to abortion is important. She told us about how she and her parents immigrated from Poland to New York when she was young. She said her parents were always hardworking, devout Catholics who were against contraception and abortion, but when she was 15-years-old, she became sexually active and found a reproductive clinic that provided her with resources without her parent's knowledge. 
Dr. Malinowska told the twenty-seven attendees (including us five pro-life students) that she believes all women should have access to abortion because of her experience. It felt as if NARAL staff and speakers were almost glamorizing abortion and the importance of its availability. One attendee even said, "[The right to choose] impacts more than just what happens to your body. It limits your freedom to dictate your own future… it'll dictate whether you keep your job, move up in your career, etc." 
Throughout the workshop as an undercover pro-life student, I asked numerous questions, including how pro-choice students can counter SFLA chapters, and how students can be an ally for "reproductive healthcare." My overall goal was to identify how they combat the pro-life movement, in order to better respond to attacks from the pro-choice movement. When I asked how students such as myself can make a difference, Dr. Malinowska told me to "start a pro-choice club."
Another speaker, Leslie Dollen, a pro-choice attorney, spoke about the importance of the Supreme Court case June Medical Services v. Russo.
Towards the end of her talk, I asked her about the highly anticipated Supreme Court case "June Medical Services v. Russo." 
"What do you believe, given your legal background, could be some implications and consequences if the Supreme Court rules against the pro-choice movement?" I asked in reference to June Medical Services v. Russo.
In response, Mrs. Dollen said that she believes "Roe V. Wade is on the blocks and June Medical Services is another example of Roe V. Wade being carved out."
"In Minnesota, the Supreme Court has said that abortion rights are protected by the Minessota state constitution, but that can change by a change in the court, a change in the governor, a change in the justices. My feeling is that in the short term, we all know how important June Medical Services is,"  she added.
In the eyes of the pro-choice and pro-life movement, this will be a defining ruling in the fight over abortion. Mrs. Dollen's response confirms this.        
One of the most important pillars of Students for Life is "rapid response" because our movement must always be prepared to counter any fallacies used by the pro-choice movement. Attending this workshop felt more about using one's emotions, such as fear and anger, to fight for aborting preborn babies. In comparison, pro-life meetings are based on passion and eagerness to fight for both the preborn and women.
This is a guest article by Students for Life leaders Felipe Avila and Teresa Overholser.