From the SFLA Blog
Pro-Life Students Raise Over $700 in Donations & Supplies for Pregnancy Centers During COVID-19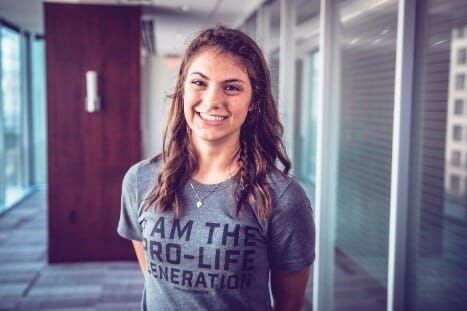 Mary Briganti - 16 Jun 2020
Three students from the 2019-2020 William Wilberforce class adapted their fellowship projects to help Pregnancy Help Centers in Nebraska, California, and Texas during the pandemic. By hosting online item drives and Facebook fundraisers, these students raised over $700 in monetary donations and item donations combined.
One student collected almost 50 items for her local center in Rio Grande Valley, Texas through Amazon and Walmart wish lists.
"When COVID-19 hit, a lot of families here lost what little stability they had. These centers provide many services for free, purchasing things for young moms and families, anything from formula and diapers to car seats and maternity clothes."
Damarys Ventura, University of Texas Rio Grande Valley
__________________________________________________________________________
Helping women and families experiencing unplanned pregnancies is where we have seen pro-life and pro-choice people can work together.
"Pro-Life or pro-choice, nobody is opposed to the idea of helping pregnant women get what they need. My sister, for example, is politically pro-choice, but was the first person to donate through my fundraiser."
Maria Pinkerton, University of Nebraska at Omaha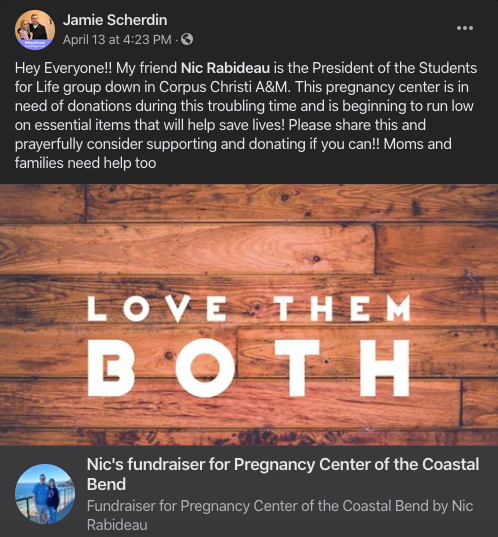 One student even received $200 within the first twenty-four hours of starting his Facebook event.
"I sent an email to the director asking what they needed, and since this was classified as an essential business they need so much. Everything from cleaning supplies to baby items such as diapers and formula was becoming scarce."
Nic Rabideau, Texas A&M University Christi