From the SFLA Blog
Pro-Life Students On Pace To Contact Over 10,000 Pro-Life Voters In One Congressional District
Brenna Lewis - 17 Mar 2020
Students for Life Action reported that they are on pace to contact over 10,000 pro-life voters in Illinois' 3rd Congressional District ahead of the March 17th primary today. Pro-life Democratic Congressman Dan Lipinski is facing pressure from NARAL-backed Marie Newman, who also challenged him in 2018 in the primary. Lipinski is being targeted for being pro-life.
Titus Folks, the National Campaigns Advisor for Students for Life Action has been leading a team of students who are on pace to knock on at least 3,000 doors in just a few days to educate pro-life voters about what is at stake. Students are also set to make 7,500 phone calls from across the country to pro-life voters in the 3rd Congressional District to educate pro-life voters and remind them to vote pro-life first. They have been joined in their efforts by groups like Democrats for Life.
Folks stated, "The pro-life generation does not care about partisanship; they want to see pro-lifers elected from both parties. They are excited to try to ensure that the voices of pro-life Democrats are heard, even as the national party tries to silence them."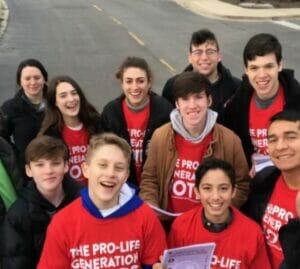 Writing of the primary today, NBC Chicago notes,
"If the Democratic primary in Illinois' 3rd District seems familiar – that's because it is. The race is a rematch between incumbent Rep. Dan Lipinski and progressive challenger Marie Newman, joined this time by two new challengers: Rush Darwish and Charles M. Hughes.
Lipinski and Newman faced off in the Democratic primary in 2018, which Lipinski won by 2 points – a total of 2,145 votes separating him and Newman. The race garnered national attention pitting centrist and progressive voters against one another in what some saw as a fight for the soul of the Democratic Party.
Lipinski is now an eight-term lawmaker who took over the seat from his father and is seen as one of the most conservative Congressional Democrats. He's positioned himself against abortion rights, voted against the Affordable Care Act, and has taken other, more conservative stances on issues like immigration."