From the SFLA Blog
Virginia Legislator Completely IGNORES Constituent Who Opposes the ERA
Stephanie Stone - 13 Feb 2020
Students for Life Action has been hosting a calling/emailing campaign to stand against the so-called "Equal Rights Amendment" (ERA) in Congress this year. In reality, we know that this bill should actually be called the "Everything Related to Abortion Amendment", as it would enshrine tax-payer funded abortion in the U.S. Constitution. 
Democratic legislators in the House have introduced a resolution, titled House Resolution 79 (H.J. Res. 79), which would remove the deadline on the Equal Rights Amendment. Hundreds of students from across the nation have emailed and called their legislators to oppose the ERA and this resolution. 
I recently took part in this calling and emailing campaign, as a resident of Fairfax, Virginia, and I emailed my legislator Representative Gerry Connolly to vote NO on H.J. Res. 79. Representative Connolly and his staff clearly did not read the email I sent. 
The first paragraph of my email began with, "Hi! I am a constituent and a member of Students for Life Action – I'm calling to ask that my elected official vote NO on House Resolution 79 and any other legislation like it that would enshrine tax-payer funded abortion in our U.S. Constitution and roll back legal rights women have achieved in the workplace," and the rest of the email draft can be read here. 
Within a day, I got a letter back from Representative Connolly, in which, he attempted to explain to me, a woman, and his constituent, how women are still oppressed in our society, and this is why we need the ERA.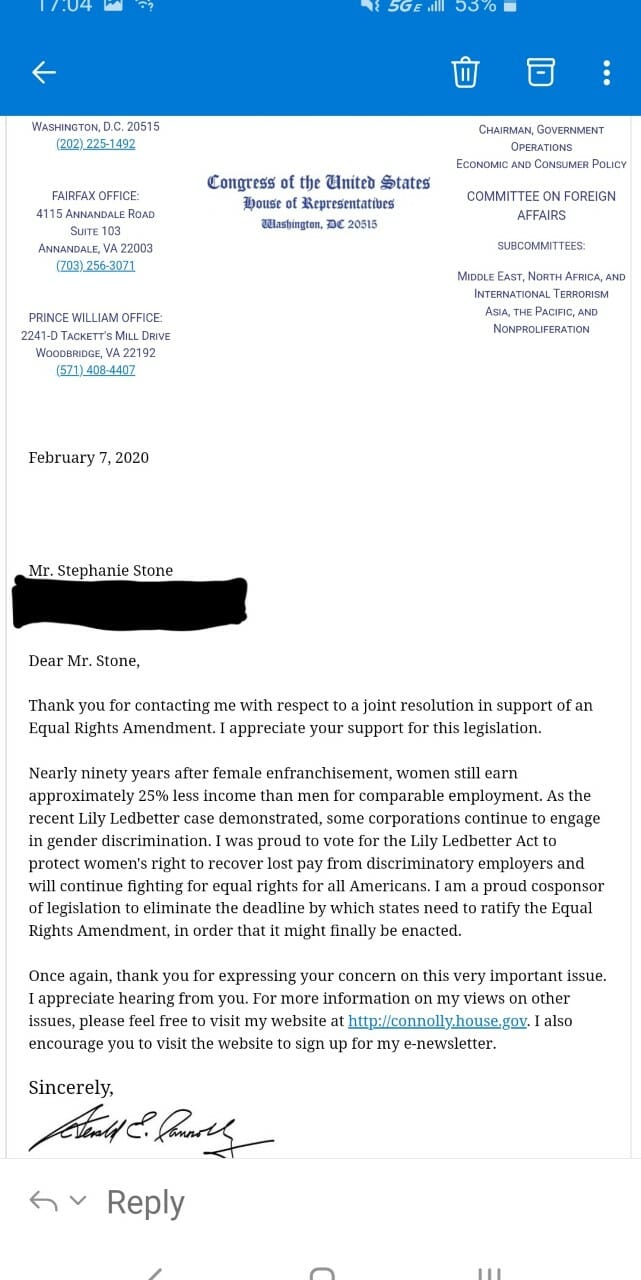 Representative Connolly, with all due respect, as a woman, I know that the Equal Rights Amendment will actually HARM women in our society, rolling back years of laws that we fought for to PROTECT women. Not only that, but this resolution is a farce; even Justice Ruth Bader Ginsburg believes that the Equal Rights Amendment is outdated and the process should be started over if anyone hopes to pass the legislation. 
Not only this, but whoever actually wrote the letter from Representative Connolly was way off base. I was referred to as "Mr. Stone" twice, and if you take a look at the first paragraph, he wrote back acknowledging my SUPPORT for the legislation, when in fact, from my email it was clear from the very beginning that I was urging him to vote NO. 
It is clear to me that no one in the office took the time to truly read my concerns, and this is troubling, especially as a constituent.  
I responded to the letter with, "Congressman Connolly, thanks for your response. While I appreciate your written feedback, I wanted to make sure I clarified: as a WOMAN, a constituent, and a member of Students for Life Action, I stand AGAINST this legislation. I do not support it as your letter suggests. I urge you to vote NO. I believe it would ultimately be detrimental to women and families in our state and in our country. The original email I sent is copied below for reference. Please take the time to read these concerns," and I copied my previous email for reference. I have not heard back since I sent this response email. 
Although sometimes our representatives refuse to truly listen to us, it is SO important that we continue to speak our minds and let them know we oppose the ERA and other harmful pro-abortion legislation. 
Tomorrow, there will be a hearing for H.J. Res. 79 at the Capitol, and we will be there with young women from across DC, representing our students nation-wide who oppose this legislation. Join us there (email Stephanie Stone at [email protected] for details)…or take a few minutes today or tomorrow to call/email your legislator! It is crucial that we continue to stand up for women and families during this important time! 
Let's show them that we are the Pro-Life Generation!