From the SFLA Blog
Pro-Life Students Convince Democratic Voter To Vote Pro-Life First In Special Election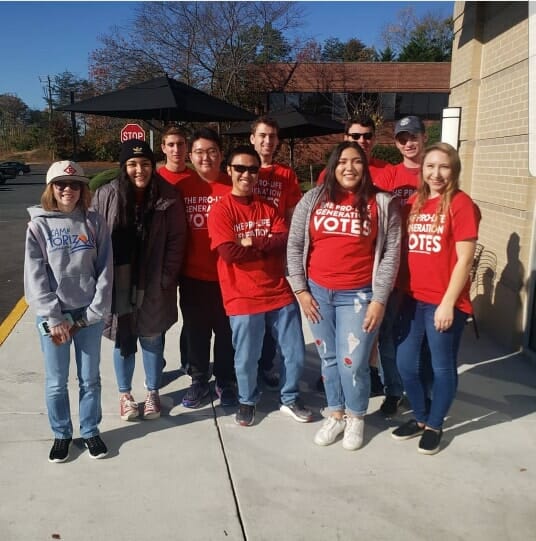 Brenna Lewis - 29 Jan 2020
Yesterday, around 10 pro-life students in Texas passed out hundreds of fliers that simply explained where the candidates stood on abortion in a special state house race in Texas' 28th district. Thanks partially to their efforts, voters elected pro-life Gary Gates over NARAL-endorsed Eliz Markowitz.
Ana Garza, a Students for Life leader at Houston Baptist University said, "I was never really sure about how effective passing out flyers was, but by the end of the day I saw how one lady changed her mind by one of the flyers we passed out. It gave me the realization that we never really know whose minds we're changing and what impact we leave in the voting booth."
One person that helped make a difference is a pro-life voter we talked to who said she voted her conscience on abortion over her party, in deciding to vote for pro-life Gary Gates.
WATCH:
Gary Gates, a businessman and pro-life champion has adopted 11 children through foster care, and he's lived the pro-life movement. He was endorsed by Texas Alliance for Life. He opposes taxpayer funding of abortion and supports a ban on abortion after 20 weeks.
Meanwhile, Elizabeth Markowitz threatens to remove funding from Pregnancy Resource Centers if they provide misleading information about their services. She's endorsed by NARAL Texas and Planned Parenthood Texas, so forgive us we didn't think she's a good judge of that.
She also used language to signal that she supports the extreme "bodily autonomy" pro-choice stance. This stance goes further than most pro-choice Americans by arguing that women should have access to abortion without exception up until birth. They usually tack on taxpayer funding of abortion too, although it's unclear what Elizabeth thinks of this.
The pro-life generation knows that we must always vote pro-life first! We are a non-partisan organization and we strongly believe that when confronted with two candidates, voters should pick the pro-life candidate first.