From the SFLA Blog
New Jersey Democrat Switches Parties Then Votes Pro-Life
Brenna Lewis - 07 Jan 2020
Jeff Van Drew has served as a Democratic legislator in New Jersey since 2008. But when he made the switch from the Senate to the House in 2018, that apparently wasn't  his only change of heart. After over 10 years in New Jersey politics as a Democrat, Van Drew formally switched parties.
And it came at a very good time for the pro-life movement. There is a discharge petition for the Born Alive Infant Survivors Protection Act that he is expected to sign. This petition would force a floor vote on whether or not to protect babies born alive after a failed abortion. Democrats refuse to support this anti-infanticide legislation, so this is what it's come to.
Politico reported: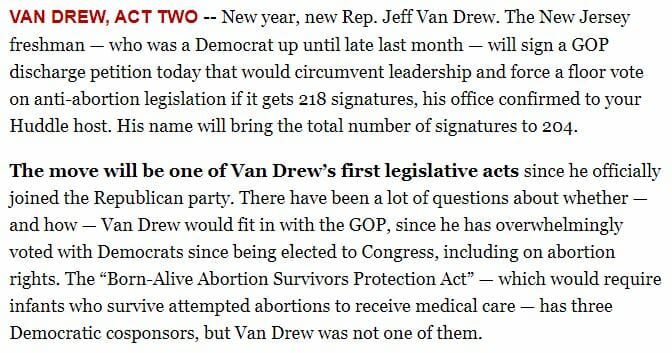 Note how in the first paragraph here, the Born Alive Act is referred to as "anti-abortion legislation." Then in the second paragraph, it's defined as requiring "infants who survive attempted abortions to receive medical care." Just an interesting observation from someone watching Democrats squirm as they try to decide just how far to take the abortion extremism (i.e. how far past birth can they get away with and still get re-elected).
To Rep. Van Drew – welcome aboard, and thank you for taking bold action to defend the most vulnerable citizens of our country.