As President of Students for Life of America (SFLA), Kristan Hawkins has spent more than 16 years building a national network of more than 1,400 student-lead groups in more than 50 states, layering campus activism now with political engagement through Students for Life Action, which she also heads. Since that time, Kristan and her team of nearly 100 staff members have trained more than 160,000 young pro-life activists, many whom are now influential in their own right in key organizations, public office, the bench, and in communities nationwide.

With the Students for Life team, Kristan has launched key initiatives to mobilize pro-life activists such as the Campaign for Abortion Free Cities to save lives by using grassroots and digital marketing to educate community members about pregnancy help and the violence of abortion in communities, StandingWithYou.org to connect young families in crisis with non-violent, local support, and the Demetree Institute for Pro-Life Advancement to share best practices and most effective messages while connecting national, state, and local anti-abortion leaders. Recently, she and her team are leading the pro-life movement's response to the proliferation of dangerous Chemical Abortion Pills with innovative environmental law strategies and educational campaigns featured at ThisisChemicalAbortion.com. This school year, her team will have one million conversations with Gen Z, those most targeted by the abortion industry, converting 10-20% of those they reach.

Each year, Kristan travels across the nation to speak on college campuses such as UC-Berkeley, Harvard, Dartmouth, and Ohio State University to educate our youth on the horrors of abortion. Video clips from these tours have been viewed tens of millions of times, changed minds and motivated others to join this human rights movement, and have landed Kristan interviews with shows such as Tucker Carlson Tonight. She hosts a bi-weekly podcast called Explicitly Pro-Life where she interviews leaders such as Alveda King, Dennis Prager, and Charlie Kirk to discuss the cultural and political strategy of Post-Roe America. Kristan regularly appears in the New York Times, Washington Post, Wall Street Journal, Newsweek, NPR and has been interviewed by every major television network in America. Her leadership of the Pro-Life Generation was prominently explored and featured in the 2022 pro-abortion documentary, Battleground.

A frequent speaker and media analyst, Kristan's expertise includes abortion, feminism, disability advocacy, and healthcare as she navigates the social conditions and public policy that impacts the human rights issue of our day.

Kristan is married to her high-school sweetheart, Jonathan, and they have four children, Gunner, Bear, Maverick and Gracie. In her free time, she builds awareness for cystic fibrosis, a disease shared by both her son, Gunner, and daughter, Gracie, and plans her family's next adventure as they travel full-time in an RV across America.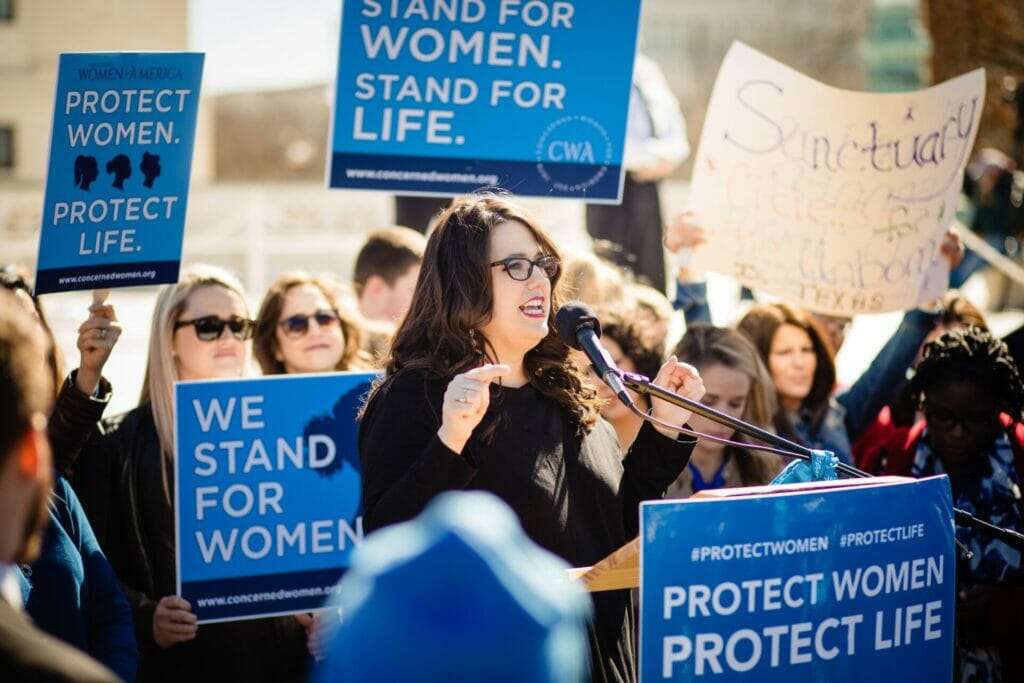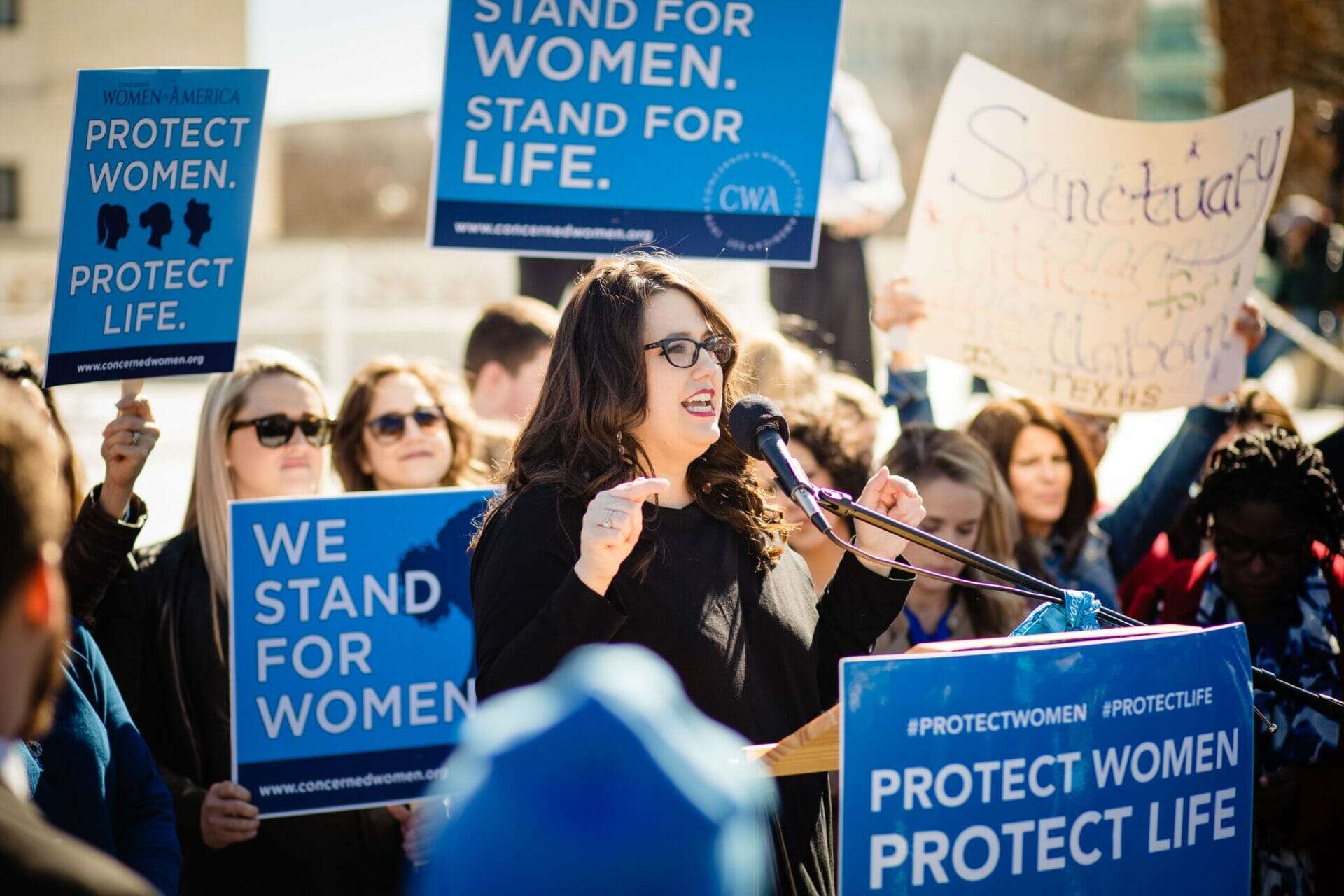 Kristan had the honor to announce the reversal of Roe v. Wade on the steps of the U.S. Supreme Court on June 24th, 2022, witnessing the end of the Supreme Court's roadblock to state and federal engagement on abortion. Since launching Students for Life, the Pro-Life Generation has been given a voice in Kristan, and, with her help, they are using that voice to demand an end to abortion and a nation that truly "loves them both."
Get in Touch with Kristan Hawkins
Kristan Hawkins on TV
Kristan's 2019 Opinion Editorials:
SFLA Quoted in:
About SFLA:
Sampling of Kristan Hawkins 2019 Media Appearances:
Kristan on Fox News after President Trump Signed Campus Free Speech Executive Order, 3/22/2019
Congressional Briefing on Equal Rights Amendment, 3/25/2019
Kristan with Laura Ingraham Talking Student Support for Infanticide, 4/14/2019
Kristan Interviewed About Abolishing Abortion in Ireland, 4/18/2019
Kristan Speaking at Alabama Rally, June 2019
Kristan Speaking at NAPA Institute, August 2019
Kristan at YAF Conference: 'Some Choices Are Always Wrong,' August 2019
Kristan on Fox News to Talk about Planned Parenthood Losing Title X Money, September 2019
Kristan on Fox News Talking About California Campus Abortion Mandate, October 2019
Sampling of Kristan Hawkins Speaking Tour Videos:
"Lies Feminists Tell" at Boston College, 3/21/2019
Clip from Pro-Infanticide Student at Boston College, March 2019
Clip from Speaking Tour at Miami University in Ohio, Potential Suffering Does Not Justify Abortion, April 2019
"Make Abortion Illegal Again" Full Presentation at Xavier University, October 2019