Movie Nights are a great event if your group is looking for a fun activity with a side of pro-life discussion. Movies bring people together and lead the way to deeper conversations about the movie's material.  What better way to open group discussion then by watching a pro-life movie? So go ahead and grab the popcorn – it's time for a good old-fashioned movie night in.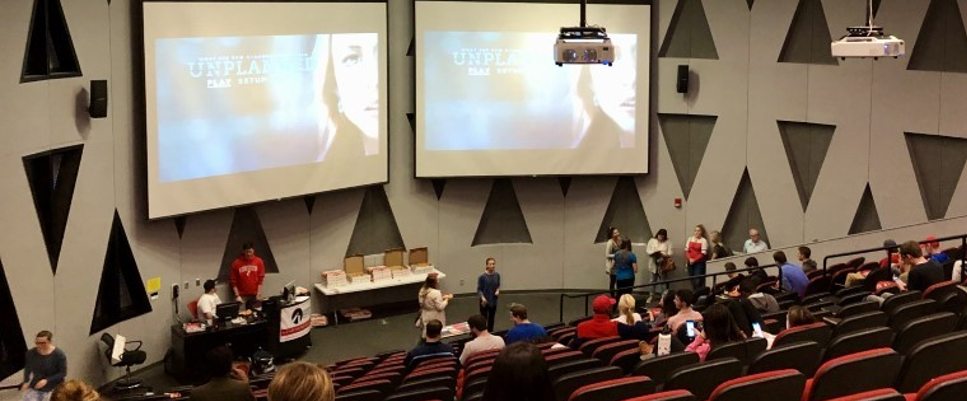 The Step-by-Step Guide
Plan

Before hosting a movie night, meet with your group to discuss what movie will be shown, when, where, and what time. Set up a meeting with the leadership in your group to discuss these details.

Reserve a room

Work with your school to reserve a space to watch your movie. Make the reservation early so no issues arise.
If you're unable to watch the movie at school, ask a local church to use a room or even host this at a group member's house if you need to. But try to arrange for the school space – that allows you to open it up to the school community at large.

Advertise

To have a successful movie night, your group must tell other students that you are having one. Advertise on social media, with flyers, and word of mouth—invite everyone you know and then some.

Gather Materials

Make sure to gather all the materials that you will need for the movie night such as the projector, the movie itself, and snacks. (Side note: Everyone loves free food so make sure to include some type of snack to help entice students to show up!)

Host the Movie Night

The day has finally arrived and it is time to host the movie. Arrive thirty minutes early so that you can make sure that everything is set up and that the free food is out for everyone to enjoy.

Host a Post-Movie Discussion

After watching the movie, make sure to open the floor up to a discussion about how the movie portrays the Pro-Life Mission. Before the discussion, make a list of good questions that will stir up a debate!
Are You Ready?
Talk to your SFLA Regional Coordinator to see if the movie you want to screen requires the purchase of a public performance license, or if you have any other questions about planning a movie night. Email [yourstate]@studentsforlife.org.