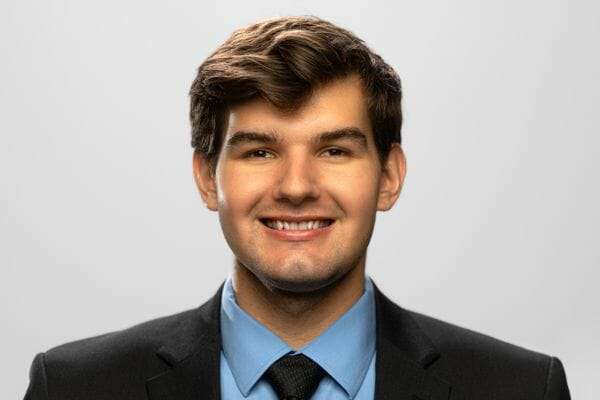 John O'Neill
Diocesan and Church Outreach Coordinator
John O'Neill grew up in McHenry, Illinois and graduated from the University of Notre Dame after studying Political Science and Music Theory (B.A.) and Theology (M.A.).
John first became involved in the pro-life movement at a young age. His earliest memory of fighting for the preborn was in 2006, standing on a roadside in Woodstock, Illinois, protesting dangerous bills in the Illinois legislature that would eliminate parental consent for girls seeking abortions. In 8th grade, he attended the National Pro-Life March for the first time and was struck by the passion he encountered among tens of thousands of pro-life advocates, all seeking to reverse Roe and bring back a Culture of Life. What kept John going in the movement, despite experiencing the usual backlash for being pro-life, was remembering his own six siblings; each of their lives brought so much meaning to his own, and he could not imagine why anyone would deliberately take the life of an innocent child in the womb.
While discerning the priesthood in high school, John was active in his seminary's life-affirming ministry and volunteering programs, serving the poor and homeless in Milwaukee, Wisconsin, and helping children in need. Upon entering college, John quickly became involved in Notre Dame's Right to Life (NDRTL) club and attended the National Pro-Life March nearly every year as an undergraduate. It was NDRTL's passion that gave John the courage to advocate for the preborn even in his most hostile sociology and political science classes. When anti-life rhetoric was discussed in class, you could count on John to make the truth heard!
John currently resides in Chicago, Illinois, and serves the Pro-Life Generation as Students for Life's Diocesan and Church Outreach Coordinator. This work includes connecting Dioceses and Christian schools to Students for Life of America through the Called Initiative, with the goal of promoting their shared missions by fostering a Culture of Life. Additionally, John assists the Programs Team by using his experience as a teacher to create lesson plans and classroom materials to educate and empower students for pro-life evangelization.
John can be contacted at [email protected].