Though they are often attacked by radical pro-abortion extremists, pregnancy resource centers are actually performing tremendous work providing healthcare in rural communities; so much so, that even the liberal-leaning New Yorker admitted so much in a recent article.
The New Yorker writes quotes a healthcare executive saying,  "Steven Holman, the C.E.O. of Union Health, an integrated health system in Illinois that serves a rural population of two hundred and eighty-six thousand people, and the primary recipient of the grant, told me that the Wabash Valley C.P.C. was uniquely well positioned to reach women who otherwise would be unable to access prenatal care. 'The C.P.C. is doing that by taking their van and going out to these moms where they're at,' he told me. 'Yes, they park at churches sometimes. That's where these moms may go.'". Note that many in the  the pro-life movement now uses the term 'pregnancy resource center' instead of crisis pregnancy centers.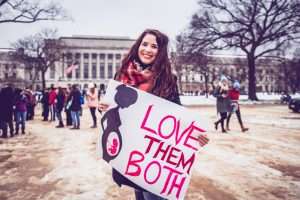 An article in Vice bizarrely attacked pregnancy resource centers for providing healthcare services, saying it was part of a ploy to receive federal funding. Wait, so first pro-abortion extremists attacked pregnancy resource centers for not providing enough healthcare and then attacked them when they do provide more healthcare services? Interesting. Seems like the real motivating factor is a hatred for pro-lifers and groups that help women avoid abortions.
Vice writes, "Faith-based crisis pregnancy centers (CPCs)—which espouse anti-choice, anti-birth-control, and pro-abstinence values—have historically existed outside the medical system. They often locate themselves near abortion providers to attract those seeking abortion care but, until recently, few offered any medical services beyond pregnancy tests. They were almost never licensed medical facilities….Now, a growing number of CPCs, also called "pregnancy resource centers," are offering more medical services like ultrasounds and testing for sexually transmitted infections (STIs). Some are also pursuing licensure and installing electronic health record systems. As licensed medical clinics, CPCs can bill insurers including Medicaid and qualify for government health grants instead of relying entirely on donations."
To summarize: pregnancy resource centers are expanding to provide more healthcare services, like STD testing. Now, they are being criticized for doing so? Seems hypocritical of the abortion industry, which by the way, may not want to start criticizing organizations for not providing enough healthcare services.
If you are looking for life-affirming, healthcare services near you, you can visit optionline.org to be connected. If you are a student group that wants help connecting students and the community to free resources for families and people in need, contact Camille Cisneros at [email protected].