Earlier this month, an opinion editorial was posted on the New York Times by a mother defending her choice to have a late-term abortion following a bad prenatal diagnosis. Lyndsay Werking-Yip and her husband were told by doctors that their very wanted baby had brain abnormalities that would prevent a normal life. They immediately decided to abort, and at five months and one week, the deed was done. Clearly, there's a lot to unpack here from the pro-life perspective.
But, to preface… for an article in support of late-term abortion, she does one major thing right: she doesn't demonize the people who think her decision was wrong. One of the top things most abortion supporters do wrong is absolutely refuse, point blank, to acknowledge that pro-lifers take our stance out of love. Instead, they choose to believe we're heartless, hate everyone, and fight for life for the sole purpose of making women suffer. When both parties can acknowledge the humanity of the other, a productive conversation can be had. So kudos there.
It's Heart-Wrenching
The very first reaction here after reading Lyndsay's account and taking it at face value is that it is utterly tragic. It's every parent's nightmare to be told their child is sick.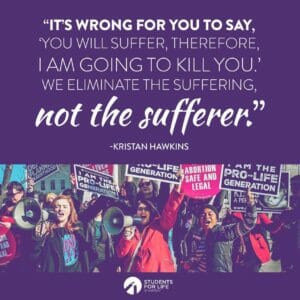 Her self-explained reasons appear noble. She wrote, "Our child would not be given a life of pain and suffering. Instead, we would take her pain on as our own." There's no denying the sentiment sounds kind, and it's actually refreshing to hear an abortion supporter acknowledge that this "choice" does not come without unimaginable pain. It's a lot easier to have a dialogue with that starting point as opposed to the hanger-waving, painted-red-pants-wearing people in the street yelling that they loved their abortions and can't wait to have some more.
But still, this is the product of a culture with no respect for life. A culture that has forgotten how to love genuinely. These loving parents were told that to terminate the potential sufferer is the right thing to do, and they are only two of many good-intentioned people who have been victimized by a culture of death.
Is it necessarily fair to argue for late-term abortion based on the anecdotal evidence of one person's story? No, not really. But that doesn't mean there's a lack of compassion for these circumstances. The pro-life response is that we support curing diseases/disorders, not eliminating the people who have them.
Mercy Killing
Stories of individual circumstances like this (i.e. poor prenatal diagnoses) really force us to talk about the idea of "mercy killing." One recalls those dystopian future novels about "hyper-civilized" societies that do not hesitate to kill their citizens due to a variety of different reasons, deeming it merciful.
But dystopian thought experiments are a warning, not a road map. Human beings should not kill other human beings. And every step we take away from that is a slippery slope. Every single one of us is valuable, regardless of health condition, disability, age, gender, race, sexual orientation – every external factor.
It's helpful that Lyndsay poses some really straightforward questions in the article. She writes:
"If you identify as "pro-life," what does that phrase mean to you? I know that in advocacy circles, it means, essentially, "anti-abortion." But what does life mean to you — the life that you are "for"? Does it mean breathing on your own? Does it mean having a heartbeat? What are the markers of a life of quality, of purpose, of meaning? If your brain was not functioning following a traumatic car accident, would you want your body artificially sustained indefinitely? What is the threshold of experience for you to want to continue living?" 
Being pro-life (yes, anti-abortion) is being opposed to the intentional termination of innocent preborn people, sick or healthy. The lives that we are "for" are human beings; the only thing every single one of us has in common is our humanity, and the second we start to add other layers to that, we get into very sticky ethical situations.
We don't give the lives that we are "for" their meaning; their meaning is inherent and exists by virtue of their humanity.
And if we're going to think about fetal abnormality abortions as mercy killing, it's very worth noting here that this child was biologically capable of feeling pain, as pain-receptive nerves are developed around the 20th week of gestation. It's tough to think about what that child went through.
What if the Doctors are Wrong?
Since we're discussing anecdotal arguments, it's worth considering the countless times doctors have been wrong about prenatal diagnoses. Technology has obviously advanced quite a bit, but we tend to overestimate just how accurate prenatal testing and ultrasound imaging are.
For instance, a couple in Ireland aborted their baby after being told he/she had Trisomy 18, only to find out after the termination that the baby had been perfectly healthy. Taoiseach Leo Varadkar, Minister for Defence and Leader of Fine Gael, called the situation an "individual tragedy" and that he felt for the couple who had "lost a very wanted child."
Another parallel instance happened closer to home, in Oregon, though thankfully they awaited further testing before aborting their healthy child. In this story, NBC reported: "But positive results can be wrong 50 percent or more of the time. And an investigation by the New England Center for Investigative Reporting published in the Boston Globe found that "likely hundreds" of women are aborting fetuses based on this new generation of testing. One company reported a 6.2 percent abortion rate based on screening results alone — and without further testing, there is no way to know how many of those may have been due to a false positive."
That number is highly disturbing. The Federalist wrote on this as well, noting: "That means that according to this "accurate" early testing, 54.5 percent of women who were told their child likely had Down Syndrome delivered (or would have delivered) non-DS babies, and 60 percent who were told their child probably has Edward Syndrome delivered (or would have delivered) non-ES babies."
The American Academy of Pediatrics have weighed in on it too, here noting a case where the baby's condition ended up being much less severe than anticipated. The data about wrong diagnoses goes on and on.
Consistency Isn't Easy
Nope, no one ever said being consistently pro-life was a walk in the park. But at the end of the day, there is nothing that justifies taking an innocent life. No circumstance or condition gives a bigger, stronger human the right to decide someone else's life isn't worth living. Not even if that person deems it "merciful."