An Oregon clothing company is enjoying all sorts of publicity this week after paying for a Times Square ad depicting women doing physically aggressive things to Donald Trump, including tying him up and standing over him as well as taping his mouth.
The clothing company, Dhvani's, CEO strung together a well-rehearsed explanation of being "fed up" with the administration, and shared all of the deep, intellectual symbolisms and hidden meanings behind the art depicted in the ad. For instance, the rope is meant to be a Wonder Woman-esque "lasso of truth." As if that made this charade any less juvenile, disrespectful, or violent.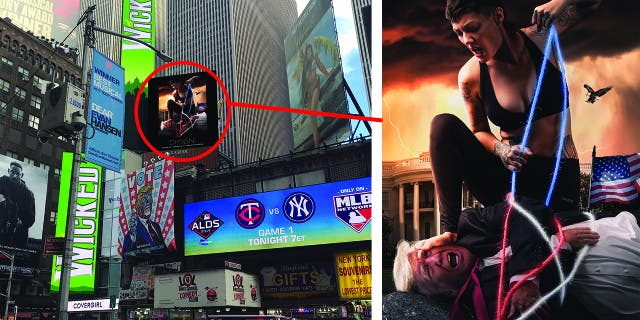 For Students for Life followers who may recall, we paid for a Times Square billboard ad earlier this year in advance of our NYC Gala (thank you to all who made that possible). It contained a slideshow of young people holding signs with simple pro-life messages. Yet we went through an absolute headache getting it there.
In all of Times Square, only three companies would work with us. Of that, only 5-8 billboard spaces were available for our use. Originally, we had a fantastic spot, the company was on board, and we were even in the process of signing a contract… until the ad was presented and the building owner said no.
So… Students for Life starts over, jumping through all the hoops a pro-life group has to jump through in America's most liberal city. After a second arduous process, we ended up with a smaller billboard in a less prime location than the first. No worries – it still looked great and got plenty of attention! But only after an insanely thorough fact-checking process (seriously – the  most nitpicky dissection ever).  Though, interestingly, most companies who turned us down said they didn't want to engage with political ads.
Hogtying the president in an ad seems pretty political to us. But who are we to say.
We don't have the details of this Trump-hating Oregon company's process for securing the space. But it's awfully interesting that they also vowed to donate a portion of proceeds following the campaign to Planned Parenthood, America's resident abortion giant. And since they spend millions on politics each big election, that seems pretty political to us, too. The double-standards just never get old.