Here's something we don't say too terribly often: John Oliver had an interesting segment recently on his show Last Week Tonight. The Communist Chinese government just celebrated 70 years of dominating their country by force, prompting Oliver to discuss their famous one-child policy & the effects they're facing today.
John Oliver is a pro-abortion Hollywood liberal who got his start on The Daily Show. In watching the segment, you're not going to hear any profoundly pro-life sentiments. But even HE can admit that forced abortion, sex selection, and the ramifications for Chinese girls are horrifying beyond words.
*Warning: crude humor and explicit language.  
What's the One-Child Policy?
In the 1960s & 70s, there was a global fear of overpopulation. The Chinese Communists all put their heads together, and decided that forced family planning was the best option to "improve the country's economy," as well as maintain their choke-hold on their people. So, military scientists concocted the one-child policy which was instated in 1980.
There is a strong Chinese preference for male children. The commonly-known reason is that families simply want to pass on their name. Lesser known is that, culturally, men are expected to take care of aging parents. Hence, families were even more motivated to prefer boys over girls in their own interest. If you could only have one kid, better be a boy.
One-Child Enforcement
Enforcement varied widely, with more heavily-populated areas suffering stricter enforcement. Rural families were known to be allowed a second child… provided their first one was a girl. Chinese families faced fear-mongering propaganda about adhering to the policy, and the punishment for breaking the law. People were jailed, forcibly sterilized, forced to pay fines equal to 4 years' salary, or the victims of forced abortion. One of the most painful moments of the Oliver segment is a clip of a woman who suffered a forced abortion at NINE MONTHS.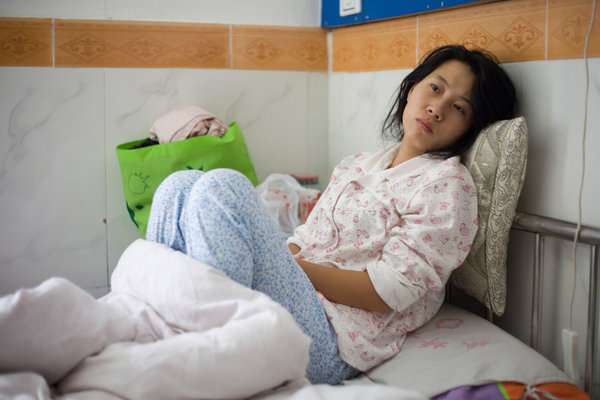 Half a million people were in charge of enforcing this policy. They had women take mandatory pregnancy tests every three months. They had women patrol female factory floors, looking for signs of pregnancy. Propaganda told citizens to "have fewer children but raise the quality." It was the scene of the worst dystopia imaginable.
The Bloody Result
The body count is known only to God himself. China's orphanages were (and are) filled with girls. Baby girls were found abandoned regularly. Sex-selective abortion was the norm; if only one child was allowed, parents sure wanted it to be a boy so he would take care of them when they got old. Infanticide certainly happened, and more often than we'd like to know.
The silent screams of women who suffered forced abortions (no matter the stage of pregnancy) and forced sterilizations are deafening. It's one of the most horrific government intrusions of modern time.
After 35 Years, The Policy Is Lifted
Oh, but don't get too excited. It's now the Two-Child Policy. Same oversight, same punishments, different number. There are still mandated pregnancy tests. Still forced abortions. So, why did they change their tactic? Check out the long-term effects of the One-Child Policy:
In China, there are 34 million more males than females. Most men will die alone, unmarried. In many places, men outnumber women 2:1.
An entire market segment sprung up, revolving around lonely men. Companies to help desperate men attract these scarce women, & companies selling "plastic women" to men who gave up on finding real ones.
Vulnerable women from nearby countries are being sold to China and forced to marry their lonely men.
In the next couple decades, the elderly will make up 30% of the population, putting an almost impossible strain on the young men required to care for them. They call it the "4 to 1 Ratio." One child to take care of two parents & two grandparents.
Illegitimate second children (who survived) were practically ghosts. The government would not give them a birth certificate or ID, meaning they have spent their whole lives unable to hold jobs, get married, or do practically anything.
In essence… the government re-ran the numbers and now deems two children to yield a better economic forecast than one child. Touching. Remember, it was military scientists who came up with this idea. Clearly, they still haven't realized that human beings are not machines. The world seemed to treat the lifting of the one-child policy as a major victory. But all of the same human rights violations remain. There's still plenty of work to do.