This is Kristan Hawkins, the president of Students for Life of America. I haven't written directly on the Students for Life blog in quite a while. But last night, I got a disturbing comment on my Instagram. And it deserves a response.
I am heckled on social media every day; bored pro-abortion trolls are nothing new. "My little club" (including about 50 employees, thousands of student leaders, a gracious donor base, and a combined social media reach of about about sixty-five million) and I are not strangers to personal attacks from people uninterested in having an educated discussion about the issue of abortion.
But last night, on Instagram, I posted this graphic made by one of our student interns following the recent news that Planned Parenthood had illegally altered their abortion methods in order to harvest fetal hearts: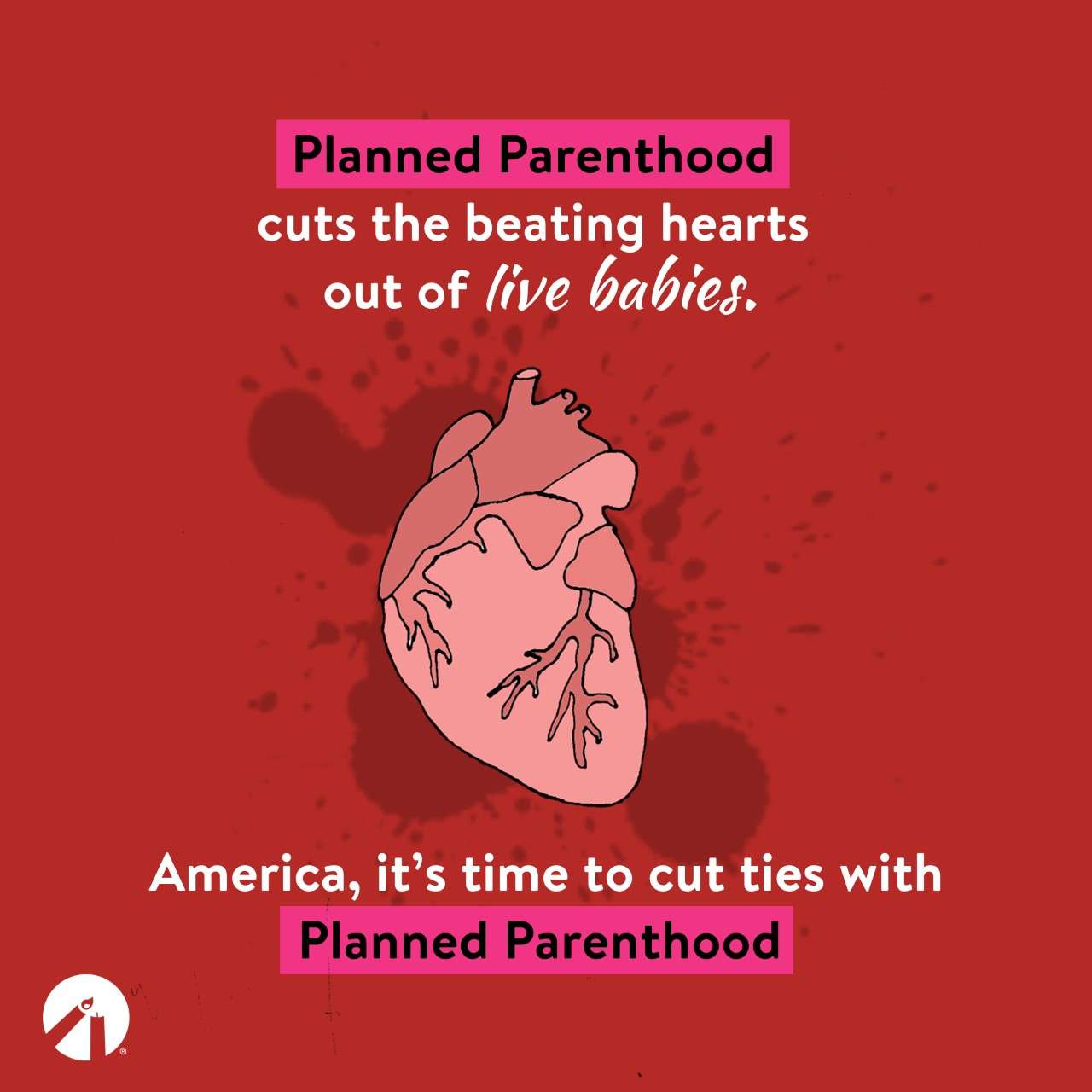 When faced with an unpleasant truth, abortion supporters prefer to call me a liar instead of taking off their Planned Parenthood rose-colored glasses and seeking the truth out themselves. But instead of deeming me a liar like his or her pro-choice cohorts, this user opted to wish me a violent death.
"Hope someone does to you what was done in colorado springs." For those who don't know the reference, an armed man, Robert Dear, attacked a Colorado Springs Planned Parenthood abortion facility in 2015, killing three and injuring more. So, there are pro-choice folks out there who have chosen to group this outlying madman in with the pro-life movement at large.
Folks, firstly, the homicidal crazy guy is not "with us." Not a single pro-lifer condones shooting up an abortion facility. The pro-life movement are the ones urging compassionate dialogue and fighting the battle with facts, not violence. We know the violence that happens each day within every Planned Parenthood can't be ended with more violence. Robert Dear is no friend to the pro-life movement – he's a murderous criminal. In fact, the day of the shooting, a group of Students for Life leaders had been out praying in front of the very same abortion facility. I thank God often that our students had already left before Dear arrived that horrific day. 
Secondly, this is the result when we demonize our opponents. This hateful commenter doesn't care that I'm a human being with a family. This person doesn't care that I have hobbies, dreams, and good contributions to society, like supporting finding the cure for cystic fibrosis. Nope – Kristan Hawkins thinks abortion is wrong, and therefore deserves to be shot.
This is not just pro-choice trolling anymore. I have been president of Students for Life since I launched our organization full-time thirteen years ago, and, since November 2016, the threats have come more and more frequently. The violence pro-lifers face has been on a constant upward trend, both on and off school campuses.
In May of this year, someone at Western Washington University lit my speaking tour banner on fire (while it was still attached to a school building). When I spoke at Cal-Berkeley in April, students stood next to me at the podium with coat hangers after having stolen a Students for Life display and throwing it in a nearby creek earlier that day. I've also been protested by ANTIFA in California and school officials had to bring bomb-sniffing dogs into the rooms before I was allowed to enter.
And just a few weeks ago, an abortion supporter initiated a bomb threat in the middle of a Students for Life presentation in Minnesota. Samuel Vanderwiel showed up at our pro-life event, evidently did some chemistry in the back of the auditorium, and left a suspicious backpack in the center aisle. He was arrested as a result of the bomb threat, has been charged with one felony count of terroristic threats, one count of 5th degree assault, one count of disorderly conduct, and one count of public nuisance to annoy/injure/endanger safety.
These major incidents land alongside dozens of smaller campus vandalizations last semester, like erasing pro-life sidewalk chalk, destroying Cemetery of the Innocents displays, and tearing down pro-life flyers.
The trend is ugly. Too many pro-choice people have embraced violence as an answer to their problems (perhaps fitting, given the nature of the debate). And unfortunately, it's a much larger, more observable trend than one crazy man in Colorado Springs. I thank Students for Life supporters for their prayers, my team and our courageous student leaders for continuing to work hard in the face of adversity, and the first responders who will keep me safe on campuses this year.
Thanks for reading this far! Would you like to take prayerful action with me? Students for Life is hosting a Prayer Webcast on October 16th. Email Lauren at [email protected] to RSVP. 
Wednesday October 16, 2019
Theme: Campus Violence and Pro-Life Censorship
Time: 9pm EST / 8pm CST / 7pm MST / 6pm  PST