"A gritty, irreverent yet relevant commentary on the life issues important to Millennials."
WASHINGTON D.C. (07-15-19)– Students for Life of America announced today the launch of a podcast hosted by SFLA President Kristan Hawkins titled "Explicitly Pro-Life," an edgy, no-nonsense show focusing on the hot, hard-hitting issues that the pro-life movement faces today. Explicitly Pro-Life is pro-life first; it equips conservatives to defend their belief that abortion is the greatest human rights issue of our day, and it challenges pro-choice people to examine facts they may never have been exposed to in traditional media sources. As a slightly irreverent voice for her generation, host Kristan Hawkins provides a fresh take on an issue Americans have been vigorously debating for more than 40 years.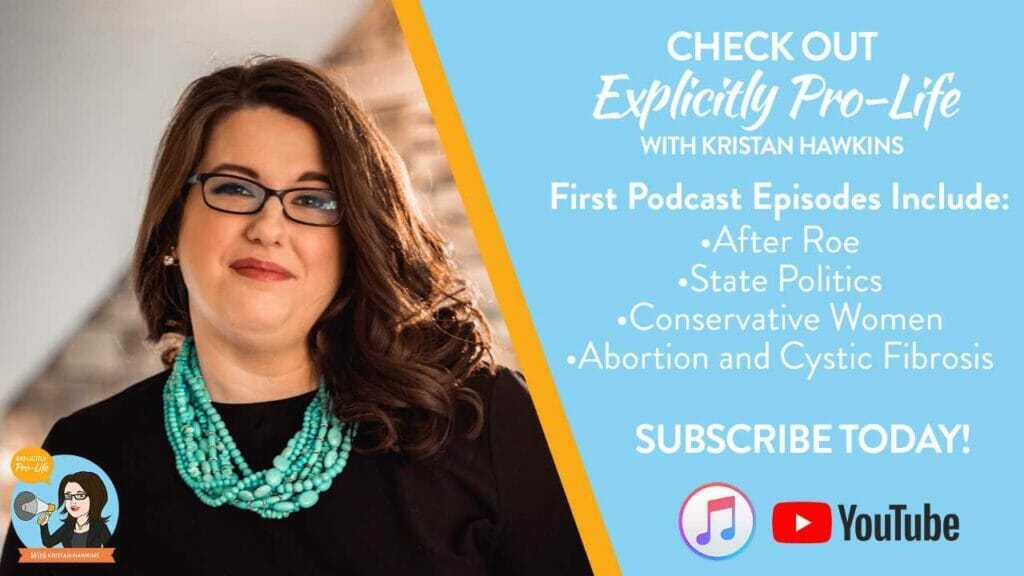 The mother of four, with two children with cystic fibrosis (a condition that is often used to target infants for abortion), Hawkins understands the insidious pressures on women to abort and empowers her listeners with ways to confront both the predatory abortion industry and the cultural mindset that devalues the vulnerable. A political powerhouse often on TV or in meetings with the White House and grassroots leaders across the country, Hawkins grew Students for Life of America from a few dozen student groups scattered around the country to a coordinated national team serving more than 1,300 Students for Life chapters in all fifty states. Her innovative strategy for networking, training and activating Millennials has laid the groundwork for the future of the pro-life movement ready to get to work in a Post-Roe America.
Listeners can access new episodes every Thursday on iTunes, and it also premieres as a video on YouTube.
Listeners can find the show at: 
Two episodes here: Hawkins can be seen and heard Fact Checking Pro-Life Democrats and Responding to Pro-Choice Arguments.
Inquiries to appear on "Explicitly Pro-Life" should be sent Nick Hamilton at [email protected]
For media interviews, e-mail Kristi at [email protected]