The abortion lobby is ON. THE. RUN. Pro-life legislation is being passed in states left and right (by elected officials, might we add) and pro-abortion activists are losing their minds. They're lashing out with vandalism and physical violence, carrying out personal attacks against people they disagree with, and now, straight-up hiding.
Yes, hiding. A few weeks ago in Maryland, NARAL hosted an abortion rally in the dead of night. In the cold. Local Students for Life leaders found out about it and gave them a little taste of which side is actually pro-woman (spoiler: it's the Pro-Life Generation).
It all sounded a little weird. A random abortion party in the middle of a cold night? Well, if you think about it, who would want to be seen chanting about killing the preborn in broad daylight when it's becoming increasingly clear that Americans don't like abortion? A bunch of blue states are frantically trying to pass pro-abortion legislation… including Maryland. Hence the dark rally.
Elizabeth O'Hare, President of Students for Life at Mount St. Mary's, led the charge. She organized a silent protest and took a group of six students from Mount St. Mary's University and Towson University to stand for life out in the cold.
The abortion rally was only attended by about 50 people, all holding signs that said "Vote Choice", "Abortion is healthcare," and "Feminist af" (with Planned Parenthood's logo on the bottom, of course). If only this rally were truly about women's healthcare; then maybe everyone could've stood together, during normal human hours, to unify the women of this state.
But since this was clearly a maneuver to promote abortion as the end-all solution to women's suffering in this country, there goes that idea.
Jurate Reventas, one of the women in Elizabeth's group, stated,
"As we stood at the rally with a pro-life sign, one of the speakers started talking about how pregnant women in prisons are severely mistreated, and how those women should be given extra care. When talking about the unborn baby, she even used the words 'dignity of her child.' The next speaker was the CEO of Planned Parenthood. Behind the sign, we were completely flabbergasted. Did that really just happen? How could they talk about the dignity of an unborn child in prison, but then support abortion?"
The group of students, led by O'Hare, began by standing amongst the abortion rally attendees, but ultimately moved across the street to make sure everyone could see their 20-foot banner, which stated "Abortion Betrays Women". The group also wore LIFE tape over their mouths which read "We Stand For Unborn Women Too", to make sure their passion and message were seen.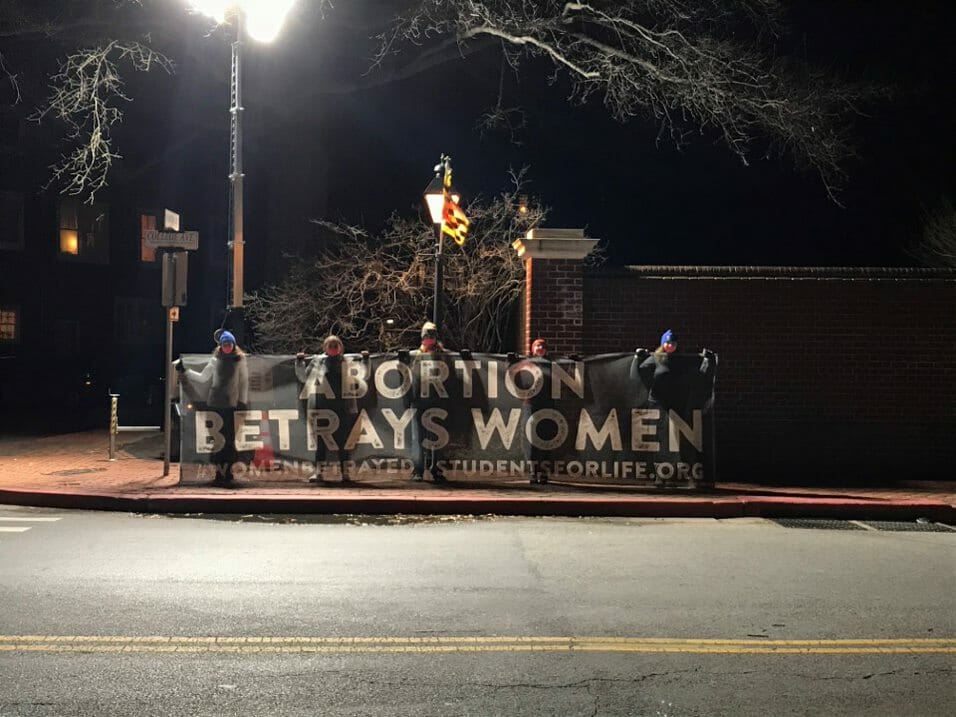 These students were so brave and compassionate as they stood as silent witnesses to the lives lost to abortion, not trying to fear-monger or judge, but to tell the abortion industry and their cronies that they DO NOT speak for every woman in this country.
Eventually, the students moved to a spot right behind the speakers on camera to make sure their message was seen. When they first took their place behind the speakers, a man wearing a bright pink Planned Parenthood shirt shifted the crowd to stand in front of them to block their presence with pro-choice signs. But everyone knew they were there, and they did an amazing job of standing up for women and life at this rally.
O'Hare commented,
"As we held our sign, "Abortion Betrays Women," I felt the divide that exists between women because of abortion. We, a group of five WOMEN (and one man), were not even welcome at a WOMEN's rally because we are against the killing of preborn humans. This rally was not about women, it was about abortion. They did not even let us take a picture by the Women's Rally sign because being pro-life is so clearly opposed to their abortion agenda. But they knew we were there. Our silence was far louder than their words."
During this time in our country when the divide feels deeper than ever, it's amazing students like these who are leading the charge to change the culture. The Pro-Life Generation is always peaceful, always loving, but also always there. We are the majority, and we will abolish abortion!