On many college campuses nationwide, the spring semester brings the infamous "Sex Week." Pro-abortion student groups join forces to smother their schools with condom fashion shows, sex toy seminars, and even Contraception Jeopardy with Planned Parenthood. Among many other lovely, wholesome, medically-accurate festivities.  
Our Students for Life groups at Ohio State and the University of Nebraska Omaha had a little fun of their own during this year's Sex Week by planning pro-life outreach during Sex Week events.  
Ohio State
Sex Week at Ohio State was chock full of gross wastes of time, like a talk on period sex. Students for Life at Ohio State was ready to tackle this week of debauchery, and they did so with style. The group organized three tabling events and rounded off the week by hosting a screening of Gosnell on campus.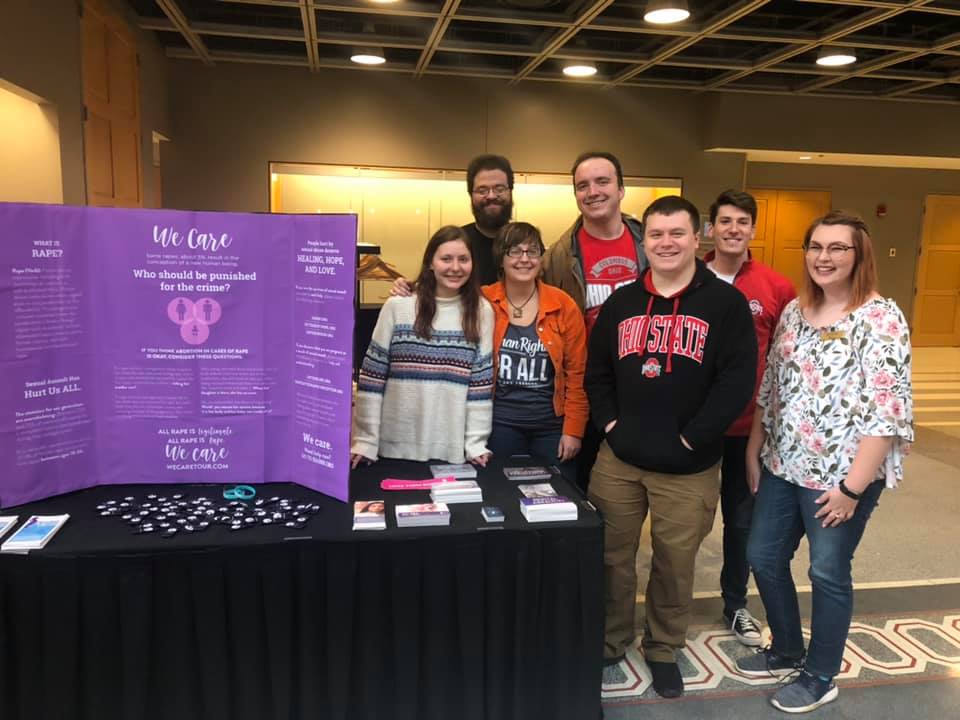 Pictured above (far right) is Klara McKee, Ohio Regional Coordinator for SFLA. Klara herself is a survivor of sexual assault, and her assistance with OSU's We Care display made the outreach that much more powerful for passing students. Ohio State pro-life students also did two additional SFLA tabletop displays that week, including Women Betrayed and We Don't Need Planned Parenthood – both of which highlight the many ways Planned Parenthood is bad at their job.
University of Nebraska Omaha
A couple dozen hours to the west, University of Nebraska Omaha's Sexploration Week was also underway – but so were their pro-life students. Check out the photo gallery below! Midwest Regional Coordinator Stephanie Lugo wrote the following about her experience: 
This past week, UNO partnered with the student-run Midland Sexual Health Research Collaboration to host "Sexploration Week" on campus. Each day had a separate topic, ranging from "Be Mine if You're in to it," to "Abortion 101" to "Sex Work is Real Work." 

Mavericks Students for Life decided to counter falsehood with truth by hosting events of their own. Although the university told them they submitted their event application too late to table across from Planned Parenthood on the 13th, they stood outside the building (in the freezing cold!) and handed out SFLA "We don't need Planned Parenthood" flyers, as well as a plethora of other information regarding surgical abortion, the abortion pill, and post abortive healing. Often, they were able to put resources right into the hands of those leaving the building with abortion "fact" sheets from MSHRC which inaccurately stated that 1 in 4 people (not just women) have an abortion.  

Later in the day, they held a "Psychology and Sex" talk given by a licensed counselor at a local women's resource center. Hosting this event allowed them to build bridges and find common ground with a leading member of MSHRC, who attended the talk. On Friday, MSFL hosted a PonC table with resources for pregnant and parenting students, to showcase the supportive and compassionate nature of the Pro-Life Generation. All in all, this group completely deserved the Rapid Response award they won from SFLA for their enthusiastic response to those challenging the truth of the pro-life movement. 
Planned Parenthood is lucky to have such a nice partnership with all of these sex-crazed Sex Week organizations. After all, promiscuity + bad information is a great formula for selling abortions.