As 2018 draws to a close, we were feeling nostalgic. It's been a great year for Students for Life, and for the pro-life movement as a whole. We thought back to some of our favorite moments this year. We hope you enjoy them! Thank you for the role you play in abolishing abortion.
Momentum National Conferences
"David wouldn't win if he fought on Goliath's terms … They all said he was crazy, and he won," said SFLA President Kristan Hawkins, urging the students to think smarter and more creatively about how to take on the billion-dollar abortion behemoth.  "Decide I will be that David fighting the Goliath of the abortion industry." 
Our 2018 National Conferences (East and West Coast), Momentum, were incredible days of leadership formation for over 2,000 students and young adults. The Pro-Life Generation are trained up to be the new face of the movement. Based on what they accomplished during 2018, it's clear they put that momentum from the conferences to good use.  
[youtube]https://www.youtube.com/watch?v=Lq81LKhsAMM[/youtube]
The SFLA Gala in New York City
Students for Life hosted a Gala in New York City in March 2018. The evening was an upbeat, exciting exhibition of the amazing things SFLA has accomplished so far and what we hope to achieve going forward. We are always blown away by the enthusiasm and passion of our supporters – it was certainly an evening to remember. Check out the photos here.  
The Pro-Life Walkout
The Pro-Life Walkout in April of 2018 was an idea inspired by a pro-life student in California. It seemed too perfect to pass up the opportunity to make it a national event – so we did. Schools across the country participated in the Walkout (despite frequent backlash from their school administrators and teachers).   
Students who experienced discrimination for their Walkout were offered legal support. Students for Life of America received multiple reports of schools treating the Pro-Life Walkout differently than the anti-gun walkout, including being threatened with punishment. Read more here.  
[youtube]https://www.youtube.com/watch?v=Cm2flBOSEvE[/youtube]
#Justice4Life
It was more or less unprecedented that we were able to see two pro-life Supreme Court Justices confirmed recently. With the retirement of Anthony Kennedy this year, we anxiously awaited the announcement of a new nominee. When Brett Kavanaugh was announced, we knew he represented a pro-life vote on the Court and sprang into action.  
The #Justice4Life tour journeyed across the country to six key states, urging U.S. Senators to support his confirmation. The students who participated volunteered long hours of driving, rallying, visiting political offices, touring pregnancy centers, and witnessing outside abortion facilities in a spirit of #votingpro-lifefirst. Read more here.  
[youtube]https://www.youtube.com/watch?v=3eubONAvN14&t=13s[/youtube]
The 2018 Spring & Fall Tour Displays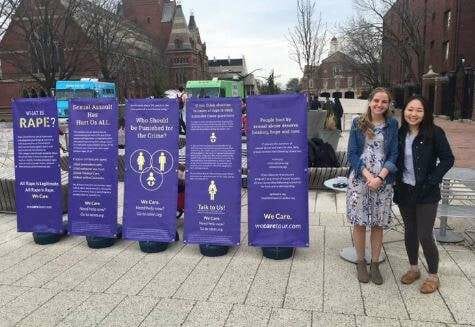 Every year, Students for Life Regional Coordinators bring two pro-life displays on a "tour" to as many campuses as possible. The Spring Tour of 2018 was We Care, a display focusing on the issue of rape/sexual assault as it pertains to abortion. This tour addresses a super important topic for pro-life advocates, thus teaching students amazing lessons about how to talk about this issue. This spring, our team had a great number of productive conversations and minds changed while doing the We Care tour.
The Fall Tour of 2018 was They Feel Pain. This display focused on fetal pain, and how it is especially wrong to support abortion after 20 weeks. Our team had hundreds of fascinating encounters with students on campus, including great stories of minds changed (and even a few wild situations, like a student flicking a lit cigarette at the display banners). When all was said and done, our team had hundreds of conversations and petition signers. Read more about the They Feel Pain tour here.
Free Speech Victories
2018 was a wild ride for our groups facing discrimination, vandalism, and other free speech challenges. It was all we could do to keep up with the stories coming in about Cemeteries of the Innocents being vandalized, pro-life chalk being washed away, and school administrations discriminating against groups by denying them funding or refusing to approve events. We even created a vandalism map to help us keep track!  
Amidst the 2018 wave of free speech attacks, we strived to ensure that pro-life student groups always came out on top by stepping in and helping where possible. We are honored and proud to say that many free speech infractions this year were withdrawn, reversed, or corrected in some way by the perpetrators.  
Read here about a Women's Center ceasing discrimination against a pro-life student.  
Read here about Miami University backing off their "trigger warning" mandate.  
The 2018 Fellowship Weekend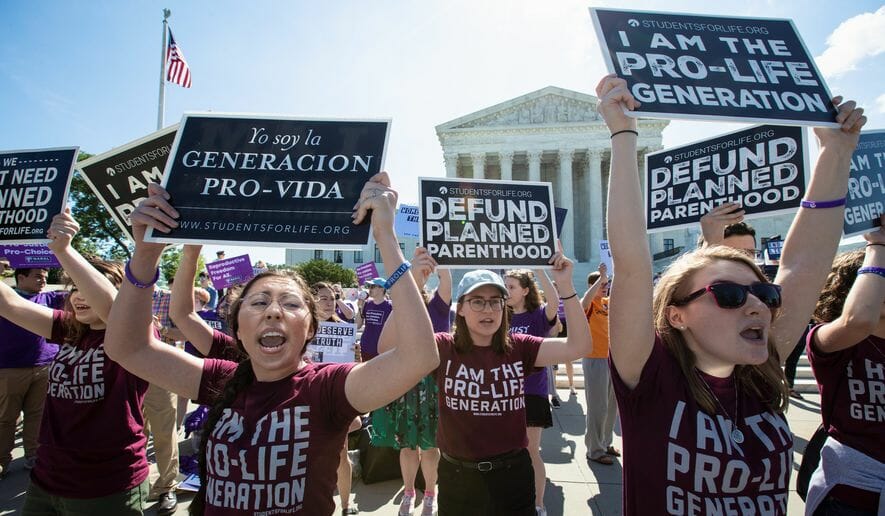 Students for Life offers two amazing fellowships to our students: the William Wilberforce Fellowship for college students and the Thaddeus Stevens Fellowship for high school students. Both programs are designed to support students who want to work full-time in the pro-life movement following their education.  
Both Fellowships are launched each year with a weekend in Washington, D.C. to train on pro-life material and practice outreach. This particular Fellowship Weekend was an extra special experience! This class of Fellows got to visit the White House, bowl at the Truman Bowling Alley at the White House, and rally at the Supreme Court during the NIFLA v. Becerra decision (and ultimately got to celebrate victory!). Not to mention, a ton of media outlets used a picture of the Fellows rallying outside the court for their coverage.  
Read Parts One and Two of a Fellow's testimony from that weekend.
Read our victory post after NIFLA won the case.
 
SB 320
Even non-native Californians likely heard about the drama that was SB 320 this past year (and earlier). SB 320 was the senate bill that would have mandated California's public colleges and universities to distribute the abortion pill, RU-486. SFLA, recognizing the incredible danger (not to mention danger to conscience rights) this posed, launched a huge campaign to keep California schools from becoming abortion facilities.  
To be honest, in a state like California, the outcome looked bleak. But miraculously, Governor Brown vetoed the bill – and even quoted SFLA talking points! The students and team members in California have been giddy, riding that astounding wave of success since the veto. But it's California, and we knew they'd try again. Abortion's name is SB 24 this time… and we're ready.  
Crashing Cecile Richards's Book Tour
Cecile Richards, the abortion queen on her way out of Planned Parenthood's top spot, wrote a book called Making Trouble and decided to go on tour with it. We decided to make a little trouble of our own by meeting her at her stops and asking her the tough questions. The SFLA team and students enjoyed making signs and pamphlets about the 3.5 million children she "made trouble" for during her reign at Planned Parenthood.  
Defunding Planned Parenthood Project
SFLA believes that defunding Planned Parenthood is an important first step in taking down the abortion industry as a whole. Currently, they receive half a billion dollars in taxpayer money every year. This year, we launched a 5 State Defund PP project in key states. The project encourages Students for Life groups in those states to get more involved in the pillar of Public Policy so that we're ready to #DefundPP the next time an opportunity rolls around. Read more here.   
Title X Mobilization
Students for Life of America President Kristan Hawkins announced in June that our nationwide network of more than 1,200 college and university chapters in all 50 states would be rallying pro-life Millennials and Generation Z to express their support for the Trump Administration changes to the Title X family planning program.  
[youtube]https://www.youtube.com/watch?v=7qgDSF8HZnM&feature=youtu.be[/youtube]
Confronting Planned Parenthood

In February, Planned Parenthood banned the pro-life students at Penn State from attending a Cecile Richards speaking event. The students successfully registered but were recognized at the door and turned away for being pro-life. Planned Parenthood defended themselves by saying the event was "to engage our supporters" only.   
In October, a similar situation arose when Planned Parenthood Advocates of Ohio banned Students for Life leaders from an on-campus event that was described as open to the public. On Sunday, October 14th, PPAO hosted an event at the publicly-funded Ohio State University called "Stand Up, Speak Out" training, featuring then PP President Cecile Richards. SFLA student Megan Ryser was admitted to the event, and later kicked out by a woman who said, "How would you pro-life people feel if Cecile Richards came and sat in one of your events?" She asked Megan to leave, saying she'd gladly call security on her.  
 Kristan Hawkins' "Lies Pro-Choice Politicians Tell" Speaking Tour (and protests!)
This fall, SFLA President Kristan Hawkins embarked on a speaking tour called "Lies Pro-Choice Politicians Tell." She visited 7 campuses around the country to discuss the most common lies our elected officials spout, like women need abortion to succeed, 7 in 10 Americans support Roe v. Wade, and women need free birth control to succeed. Read more here.

People don't like being told the tough facts, and Kristan was protested a few times on her tour. Our favorite was when she was protested at a California stop by a member of ANTIFA who seemed to think he was protesting "Kathleen Harris." He was in the ballpark, at least.  
[youtube]https://www.youtube.com/watch?time_continue=4&v=gfIlDvt1tbw[/youtube]
Ally's Post-Abortive Speaking Tour
In late October, SFLA Programs Coordinator Ally Bowlin embarked on a 5-stop speaking tour in Texas to share her personal testimony regarding Coercion and the Psychological Risks of Abortion. While it was difficult for her given the sensitive nature of the material, she knocked it out of the park and had a huge impact on the Texas students, many of whom sought wisdom on how to address post-abortive women. Read more here.
Pregnant on Campus Victories
Students for Life groups did a ton of amazing supportive services projects this year, making a life-changing (and even life-saving) difference for student mothers in need. We compiled the full list of our Favorite Pregnant on Campus Stories of 2018 here. A few highlights are a baby saved from abortion thanks to a pro-life student, a gigantic diaper drive hosted by a high school, and a college group persuading their school to allow pregnant students in the dorms.  
[youtube]https://www.youtube.com/watch?v=3yUL2fxkXgM[/youtube]