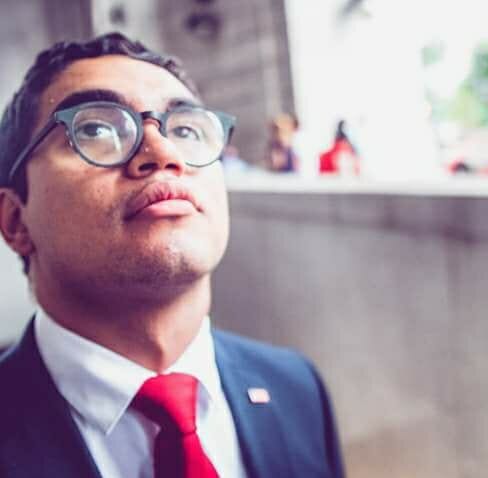 By Jaylem Durousseau
SFLA Student Leader & Wilberforce Fellow
You never know what someone may say when they approach your display on campus. It can be even harder to know what someone may be thinking when you're helping table at another college campus.
Thoughts like these were going through my head as I helped table at the University of Northern Colorado for the They Feel Pain tour. I had never stepped foot on UNC's campus, and had no idea what to expect, but I was in for quite a surprise.
Right before lunch ended, two young ladies came to talk to my Regional Coordinator, Christina Coffman, and I. They began by saying that they were curious about what the display was about, and said their friend had told them we were there. Christina asked them what they thought about banning abortion after the fetus could feel pain and one of them repsonded, "That's a tough question, but I'm pro-choice. I guess women just deserve that choice, right?"
We kept talking for a while and the issue of rape came up. The other one asked this time, "Well, how do you two feel about rape?"
Christina said, "First, I think rape is awful and we need to address the problem more. Rapists don't always face the consequences they deserve but I think that the rapist is the one who should be punished. We need to do more to love both the woman and the child."
The girls were shocked. They just couldn't believe two pro-lifers felt this way.
"I've never heard a pro-lifer say that before. That's a good point."
We all talked a little more, and one of the young ladies said, "It's hard. I see your points, but I consider myself a feminist. Aren't there some points abortion should be okay?" I was so excited to hear that.
"I think of myself as a feminist, too. Alice Paul is like a personal hero of mine. Quick question: would you agree that we can say, biologically speaking, that the unborn is human?"
"Yes, totally."
"Ok, I completley agree. And I can understand that pregnancy is hard. I was an unplanned pregnancy to my mother when she was 19. I just think that all people have a right to life, because it's the fundamental human right. Since the preborn is human it deserves that right, just like anyone deserves it, regardess of their religion, race, identity, and so on. My other issue with abortion is that I think we don't actually try to address real issues that need to be fixed, instead using abortion as a false solution. Why do we not have paid maternity and paternity leave? Why do we not have better education? Why are we not doing more to help support pregnant mothers? I just think that human rights start at the moment of concetption, and continue until one's death, and we as society need to protect those rights."
"You know, you two made some good points. I'm still unsure about all abortions, but I do think that they should be banned after 20 weeks."
"Would you like to sign our petition?"
"Yes, please."
They talked to us a while more about some more questions, but it was what they said before they left that really demonstrated to me how important it was to be on campus.
"You know, our friend said she saw you here and got so angry that she couldn't be in the building anymore. Honestly, I came up thinking we were going to argue or yell at each other, but you two were so nice and polite. I hope you can talk to more people, because I wish more people knew that all pro-lifers aren't angry. You two are pretty normal, and super nice."
Then her friend said,"Yeah, you two gave me a lot to think about."
It was such a simple converation, and maybe all together lasted 15 minutes, but I may never forget it. Although I was tabling at a campus I had never been before, it was in that moment I knew I was supposed to be there. They may not have completley changed their hearts and minds on the spot, but they hopefully will rememeber it like I will, or at the very least, be able to tell their friend about the two nice pro-lifers they met in the cafeteria that day.