A few weeks ago, Students for Life staff and students embarked on the #Justice4Life van tour around the country in order to show support for Brett Kavanaugh to U.S. Senators. The tour was living proof that pro-life advocates are driven by a multitude of motivations. Personal experience with abortion, connections with politics, and a particular compassion for the vulnerable are just a few of the catalysts that may drive a pro-lifer. Our staff and students consistently represent the diversity that is the pro-life movement.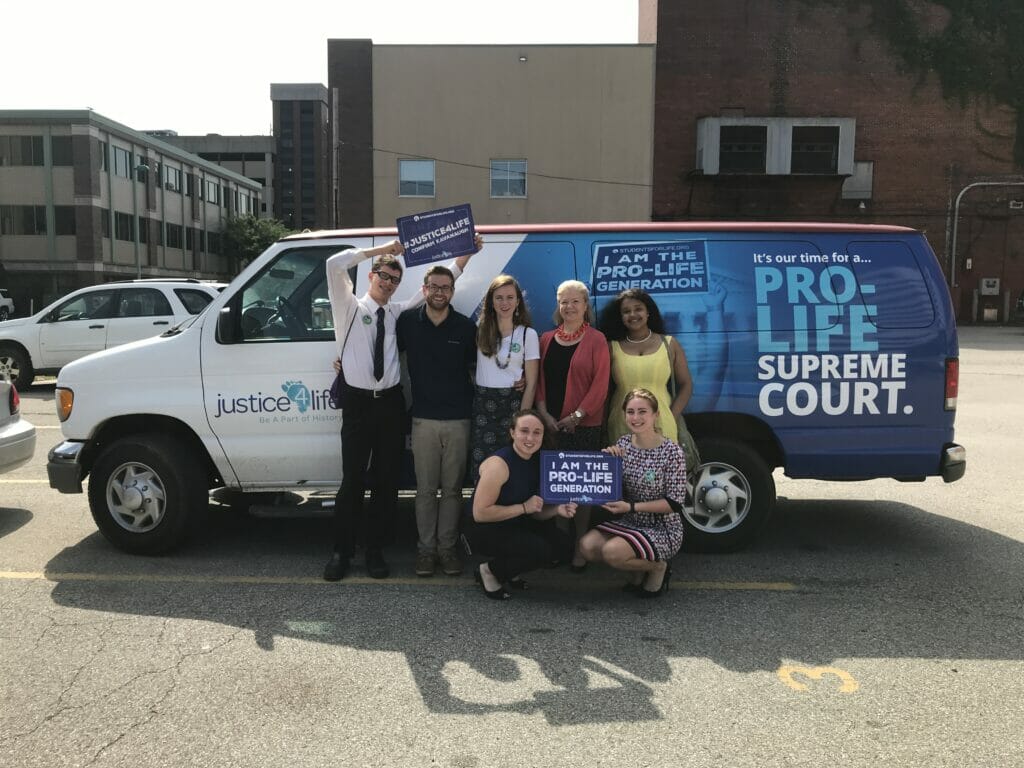 The #Justice4Life tour was an amazing experience for everyone involved, but for some, this trip was life-changing. The above reasons are common pro-life motives, but perhaps the most prevailing is faith. Students for Life is a secular organization, but we find incredible allies in many faith communities. Both religious and non-religious people can be pro-life; ending the lives of the preborn is wrong at a very human level – for everyone.
Ana TousSaint is a recent graduate of WT Woodson High School in Fairfax, VA. She started the Students for Life group there and, as a result of her passion for life, decided to join SFLA on the #Justice4Life van tour. The tour itself is true SFLA-style: a secular message that appeals to a huge group of people, both religious and non-religious. The American people deserve a fair-minded Supreme Court Justice, plain and simple. But God finds us in roundabout ways… Lori Cascio, Virginias Regional Coordinator for SFLA, says:
"Ryan Cascio, my husband and a youth minister, led religious discussions, prayer, and praise and worship in the van during long hours. We were able to witness outside of West Virginia's only abortion facility, where the realization of good vs. evil is easily seen, and while outreaching at the state fair many people spoke with us and said, "God bless you and all you're doing!" Those people were really encouraging and reminded us we were doing God's work. There's a place for everyone in this movement, but for the faithful, it's hard not to hear God's encouragement at every turn."
Ana was kind enough to share her personal testimony following her experience with the #Justice4Life tour in West Virginia:
 "I grew a lot in the short time frame that I was on this trip. I had always been passionately pro-life and for the longest time, I had wanted to base my career, and my future, off pro-life activism. The past six months or so has been hard on me and while I never wavered on my pro-life standpoint, I did on my Christian faith.

I had always told myself that I did not need to be Christian to be pro-life because my reasoning for being pro-life was always a biological and ethics issue. I had always found it appalling when a pro-choicer would say that pro-lifers were simply "religious nuts who wanted to push their agenda on women," because I figured that no matter what religion I follow, or lack thereof, I would still be passionately pro-life.

I realized this week that my logical was slightly flawed. My senior year was rough and through that year I had given up on God. This week, however, I couldn't hide from the realization that God is with me no matter how hard I try to hide. I learned that God is the very reason we exist, the very reason for us to be alive. I believe I was most passionately pro-life when I was most passionately Catholic.

I haven't been happy for a while and I had been putting that in the back of my mind for the longest time, trying to avoid God's calling. This trip, I was exposed to Him in ways that I hadn't before- towards the love and generosity of all the amazing people that I met and the kindness that I was shown by the supporters of our cause. If I want to truly dedicate my life to promoting life, I need to get on board with the fact that I need to have my moral compass."
Ana is currently discerning where to go for college, but we know that wherever it is, she will be involved in building a Culture of Life.