Team West Virginia
Senator Manchin fashions himself as an independent voice in the Senate, and also as a pro-lifer. So what better way to show that off than to support the President Trump's selection for the Supreme Court; supporting a Republican President's pro-life Supreme Court nomination would seem to fit perfectly for Manchin, right? Just in case he forgot, we wanted to remind him.
Below is the recap from our West Virginia #Justice4Life Van:
With an early start, at an amazing host home we set out on a two hour drive in our Justice4Life van to travel to West Virginia's state capital. Here we had a meeting with two of our Senator's staff members. First was Senator Capito. We thanked her for her hard work with fighting in the Pro-Life movement and then set out to meet Joe Manchin's staff. In this meeting we had the objective of encouraging Joe to vote for Kavanaugh and asked what we could do to help make this a reality.
So how did it go? Senator Capito's staff committed to us that Senator Capito would vote for Kavanaugh. But, Senator Manchin's staff was not so clear. However, we were able to take a photo with Capito's staff with the van, and present petitions to Manchin's staff.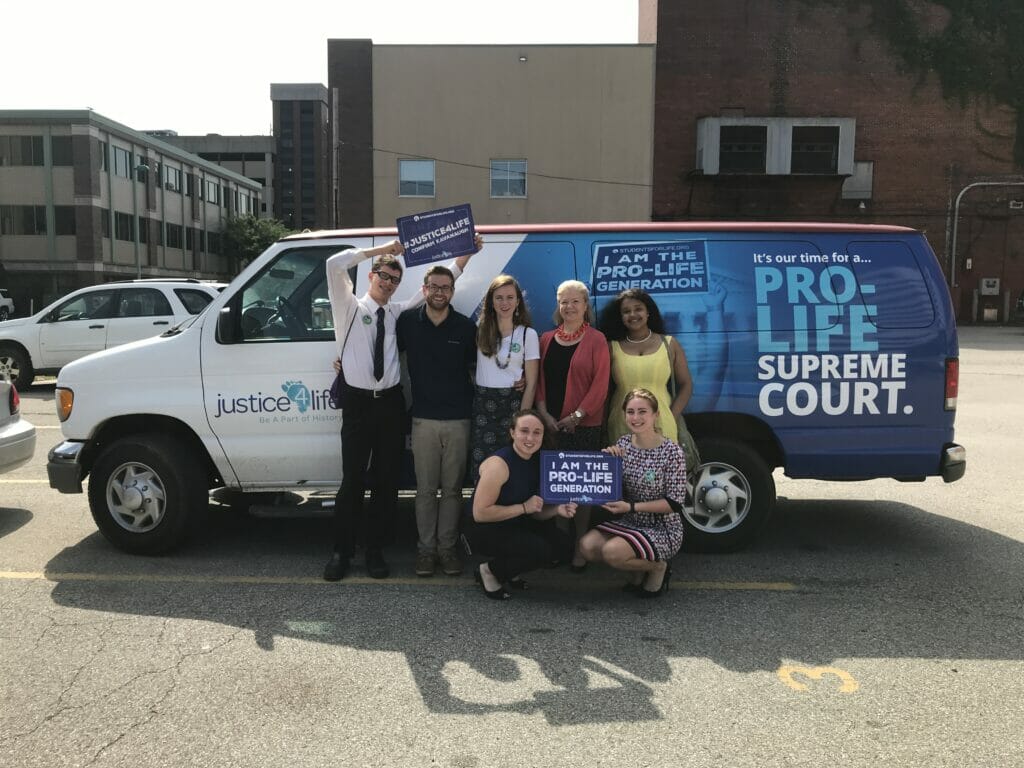 Our next move from there was to head towards a pregnancy center, so that we could meet the staff and tour the facility. Next to the pregnancy center is the only abortion facility in West Virginia and we had the privilege of sidewalk counseling outside of the building. We wrote loving messages on the sidewalk with chalk and stood outside of the building praying for the opportunity to speak with, and understand the situations these young woman and families are in. By doing this we can offer then help and support.
All in all, it was a great day pushing for a #Justice4Life!