By Ricky Silva, SFLA Wilberforce Fellow
This June, I was able to participate in the Students for Life Wilberforce Fellowship, a leadership program for pro-life student leaders across the country that takes place in Washington D.C. The whole weekend was full of learning and adventures. There is, however, one specific day that I wanted to highlight.
The fellowship happened to take place at the same time that the decision for NIFLA (National Institute of Family Life Advocates) v. Becerra, the Supreme Court case that challenged the law of my home state of California that forced Pregnancy Resource Centers to post a notice telling clients where to access abortion. On Friday morning, we held a small rally (in the rain) in support of NIFLA. It was there we learned that the decision would be postponed until Monday, so we made a plan to show up to rally in support once again.
I was really excited for Monday morning to come. The night before I had told one of the other fellows, "I can't focus on anything else but tomorrow morning! I am so excited!" The previous Friday morning, we hadn't had practice. Only about six pro-abortion advocates were there, and the excitement was not very high. This time, we would be prepared and know what to expect. This time, more pro-abortion advocates from NARAL (National Abortion Rights Action League) would be there, especially after their president Ilyse Hogue came out Friday morning and was embarrassed by the sight of all the young pro-lifers who had shown up. This time was the real deal, and the adrenaline would be high.
I had never rallied in front of the Supreme Court before. I'd only seen the online videos of courageous pro-lifers countering the pro-abortion advocates. I had also never been so up close and personal with the pro-abortion protestors having only ever passed them by during the Walk for Life when they counter-protest our march.
When Monday morning finally came, I got up, got dressed, and my roommate Jaylem and I headed down to the lobby to meet a group of other fellows for coffee before we met up with the rest of the group. After we had gotten coffee, the next stop was the office of Alliance Defending Freedom, the conservative law firm where we met for our Fellowship sessions. I noticed we had some new faces. Terissa Bukovinac, the director of Pro-Life San Francisco and self-proclaimed pro-life atheist, feminist and registered Democrat, had arrived the night before. This morning, she was wearing her pro-life feminist tattoo on her right cheek and was dressed in her usual cool hipster outfit with Hollywood-style make-up. She greeted me with a cheerful, "Good morning, Ricky!" David Bereit, founder of 40 Days for Life, had also arrived that morning.
After breakfast, we got ready for our big moment. David Cordaro, our program coordinator, reviewed with us what we were to do at the court and what would be expected. One of the things I remember him saying was, "Don't have it be our little party over here and their little party over there. Get in front of them! Get loud and crazy because that is what will be good for the media."
After our training, it was finally time to line up and head over to the Supreme Court. We had all put on our red "I AM THE PRO-LIFE GENERATION" shirts. As we walked over, we talked about our optimism that we were going to win this case. We mentioned how freedom of speech had just won in the Masterpiece Cakeshop vs. Colorado Civil Rights Commission case where the Christian baker's right to not bake a cake for a gay wedding was upheld by the court. We then passed around our "I AM THE PRO-LIFE GENERATION" signs, brainstormed the chants we wanted to do, and discussed how we wanted to show up at the court. I got one of the signs and Margaret, president of Cal Poly Students for Life, with whom I flew in from California, got the big pink sign that said "I AM A PRO-LIFE CALIFORNIAN." The Californians present included herself, myself, Kaitlyn, and Terissa.
When we finally got there, we found a whole lot of NARAL's people already there in their purple NARAL shirts, holding their signs and banners. As we waited to cross the street to the court, we had already started our usual chant: "WE – ARE – THE PRO-LIFE GENERATION! WE – WILL – ABOLISH AOBRTION!". As soon as NARAL heard us chanting, they immediately started their own misleading chant that they have been using for decades: "WHEN WOMEN'S RIGHTS ARE UNDER ATTACK, WHAT DO WE DO? STAND UP FIGHT BACK!". When we got the green light, we ran like crazy across the street while still chanting. That moment was so powerful with so much adrenaline. As a first-timer, I wondered how the pro-abortion protestors would react when we approached them. Would they be confrontational? Aggressive?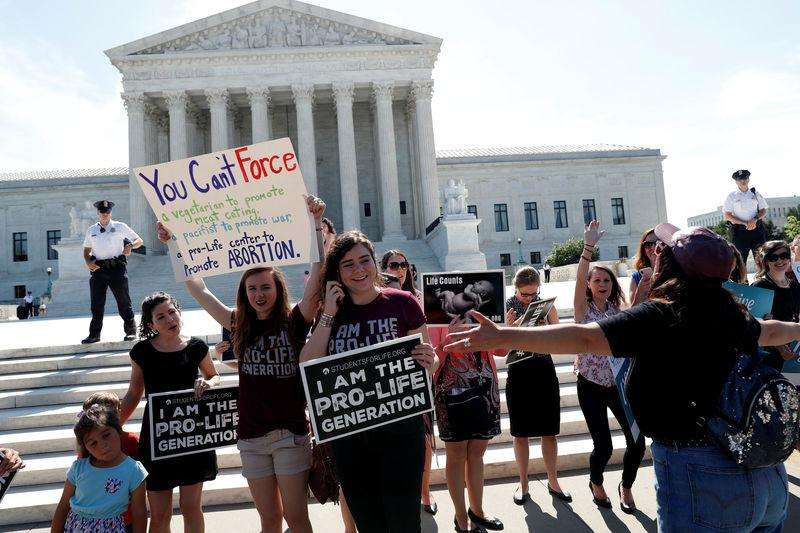 When we reached the rally site, the program leaders lined us up right in front of NARAL as we kept on chanting to create that confrontation scene for the media. It was blatantly obvious that the pro-life rally was abundantly made of students – appropriate seeing as the pro-life movement is heavily made up of young people. We had been told that the mainstream media usually wants to paint a bad picture of the pro-life movement by making it appear that pro-lifers are all men wanting to control women's bodies by taking pictures of pockets of men together. We were supposed to have the guys spread out amongst the women so that the photographers couldn't get away with it. I somehow ended up close to all of my male buddies, so I moved and got amongst the women.
The adrenaline rush just got higher and higher as the excitement and confrontation built up. As I looked around, I recognized some faces from the pro-choice movement. One of them was Erin Matson, the founder and director of Reproaction and self-proclaimed proud "pro-abortion" woman. I recognized her from her purple glasses and yellow Reproaction shirt she usually wears in her pictures and videos online. They are a direct, aggressive action group that aims to catch the pro-life movement in any little mistake in order to discredit us. Additionally, they seek to expand abortion access, normalize and celebrate abortion as a social good, keep abortion as part of the progressive platform, and discredit and attack the narrative of pro-life feminism. They have also been one of the main forces behind the efforts to discredit and attack pregnancy resource centers. I could see her angry face as she witnessed all of the young, diverse women who showed up to stand up for life, when she has been one of the activists who has tried to paint the narrative of the pro-life movement being made of a bunch of old angry white men.
The pro-life side was clearly getting all of the media attention upon arrival, so NARAL rallied their supporters to start circling around us, attempting to cover us up making it impossible for us to get in front of them. As they did that, they changed their chant to, "TRUST WOMEN! TRUST WOMEN!" At one point, their circle broke down and they changed their chant to,"END THE LIES! END THE LIES!", which was the name of their campaign that attacked pregnancy resource centers. We later changed our chant to, "GIVE FREE SPEECH LIFE! GIVE FREE SPEECH LIFE!" which was the slogan that Alliance Defending Freedom created for their campaign about the case. People were chanting at each other, some the NARAL people were yelling accusatory statements at us. An African-American woman kept circling around the front yelling things like, "You're white! You have no idea what women of color like me go through!" but would refuse to have a conversation with one of our fellows, Selene, who was trying to engage her.
Both sides were starting to get into sign fights, stepping in front of each other and competing for the camera shots. I got into a sign fight with a tall blonde woman with a big white sign that had so many words on it that I don't even remember what it said. I got in front of her sign, she got in front of my sign, until some of the other fellows came to help me out to beat her to the camera shots. This same woman also got into a sign fight with Megan, one of our other fellows who I saw being super brave and standing her ground. I've since seen the picture of her successfully showing her "I AM THE PRO-LIFE GENERATION" sign over the pro-abortion protestors in the background (which made the cover of multiple news outlets covering the story).
NARAL had also brought some of their young people, which I later found out was just a College Democrats group that they had dragged over for the numbers. Because of this, I noticed that a lot of them didn't really seem to be very passionately pro-choice, as they were inactive most of the time and looked confused as to what they were being instructed to do. This gave us the opportunity to engage some of them in conversation about abortion. A fellow next to me got pulled over by one of the NARAL girls who attempted to ask her over all the chanting and shouting, "Excuse me, I have a genuine question about your beliefs. Can we talk?" I was shocked that she was the one to take the initiative to engage in conversation. It is usually the pro-lifers who have to try to get them to engage. They moved outside of the crowd and began to dialogue.
I saw a few other fellows also engaging in conversation with the pro-abortion demonstrators. Margaret engaged two girls, and so did two of our other fellows, Naomi and Melanie. Seeing this reminded me of the pro-life vs pro-choice conversations that we have on campus all the time. They were doing a really good job applying what we had learned in our Apologetics training the day before, kicking down the wall that stood between abortion advocates and pro-lifers and helping them to walk through the flaws of their own logic instead of trying to win an argument. I could see the pro-abortion folks changing from very confrontational and aggressive to getting calmer and being more open and attentive to conversations.
It was all going well until Travis, one of the NARAL leaders, came over and put his arm between the groups of NARAL young people and pro-life fellows who were having a civil and respectful conversation. He growled, "DON'T engage with them," as if he were afraid that it might alter their convictions.
Pro-choice leaders often accuse pro-lifers of being closed-minded, but how much more close-minded can you get than condemning engaging in conversation to listen to differing points of view?
To be continued..