Students for Life of America is still accepting applications through its National Pro-Life March Pilgrimage Grant Application until October 13th! The grant program is a great offer for a diocese or a larger church. If selected, your diocese or church will be awarded free registration (includes attendance, food, and materials for students) at either our East Coast Conference or our West Coast Conference, plus money up to $1,000 towards travel costs.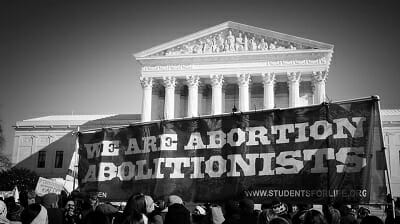 It's easy to apply too! To apply, simply fill out the form at this link or contact Lauren Castillo at [email protected] We just need to know a few things, such as past participation in the National Pro-Life March/Walk for Life, past attendance at our National Conference, and how many students you expect to attend.
We know that trips can be expensive and that students and their families may not always have extra money to spend for trips. That's why we are here to help. We know attending the National Pro-Life March and SFLA Conferences can ignite the fire in these students to return to their schools, churches, and communities and positively transform the culture.
At our conferences this year we will have great national pro-life speakers and workshops. Students and adults will have the chance to network with fellow pro-lifers, meet leaders in the pro-life movement, and learn how to best promote life back home! 100% of the grant recipients last year said it was worth attending and that they would encourage other dioceses and churches to apply so they can experience this transformative weekend!
Thanks to the grant offered by Students for Life, we were able to send high school and university students from Phoenix to both the East Coast and West Coast conferences. They were encouraged by amazing speakers, networked with other passionate youth, and were equipped with many tools to effectively dialogue with their peers regarding this important issue. Our students have spoken highly of their experience, and I would recommend that every diocese take advantage of this wonderful opportunity to form their young people! – Diocese of Phoenix, AZ, Office of Marriage and Respect Life
"When we heard about the SFLA Conference we were super excited and had many students who were interested in going. But being a small church, we really couldn't afford to take a group. But then I heard about the grant opportunity! The process was simple and it enabled four adult leaders and ten students from our church to attend! The conference was fantastic and the students are excited to go back next year! Our students have since become more involved in the Pro-life movement and they are impacting their families, friends and peers. You don't want to miss out on the next conference!" – Connections Church, Maryland